The Horde (La Horde)
(2009)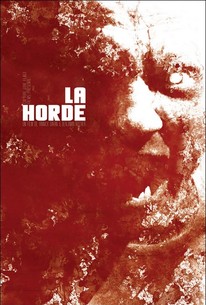 The Horde (La Horde) Photos
Movie Info
In order to avenge the murder of one of their own by a gang of ruthless gangsters, four corrupt cops go on a rampage in a condemned building which serves as the mobsters' hangout. Now trapped, the officers are about to be executed when the unimaginable occurs: hordes of bloodthirsty, cannibalistic creatures invade the building, savagely attacking everyone. Unexpected alliances are made when their lives are threatened by the unthinkable. Directed by Yannick Dahan & Benjamin Rocher.-- (C) IFC Films
News & Interviews for The Horde (La Horde)
Critic Reviews for The Horde (La Horde)
Audience Reviews for The Horde (La Horde)
Fun, entertaining and gory French zombie film that will surely appeal to fans of the genre. This is purely a gore film, and if you're looking for great performances, you'll be sadly disappointed. The French are great filmmakers and have made some stunning works of horror, La Horde being one of several films to come out of that country to offer something that horror fans can truly enjoy. It lacks in effective performances, but there's plenty of zombie carnage, which more than makes up for its flaws. The film manages to be very entertaining despite it simplistic concept, and more often, than not, you're able to pull off at lot more with basic elements. There's a good picture here, and it has enough going for it to make for a worthwhile viewing experience. The cast do a good here, and despite some lacking lead performances, there's enough here to appeal to demanding zombie fans. Directors Yannick Dahan and Benjamin Rocher do a good enough job and keeping the plot moving and interesting. Enjoyable overall, La Horde is a different entry from the usual horror films that have come out of France, and there's enough good gore effects to thrill the viewer from start to finish. Even if it's lacking in effective plot development, the film is worth seeing for its mindless zombie kills, which is what this film is all about. France has definitely made a genre picture that should appeal to viewers and fans everywhere. The gore is great, and that's all that matter in the long run. Don't look for a great story, because you won't find it. This is purely a mindless horror romp, and it does it very well.
I'm tempted to use the term "gore-fest" but the word 'fest' implies something enjoyable.
Randy Tippy
Super Reviewer
½
"I wanna get out of here alive, our chances are better with you." An end of the world battle between gangsters, cops and zombies.
REVIEW
Cops going to get revenge for the death of one of their brothers only to have the raid go horribly wrong. Then things get even worse when the dead come back to life and the zombies attack. Bloody straight forward action film about trying to get away from the dead and get out of the high rise they are trapped in is for the most part a roller coaster ride into darkness. The effects are good, the plot serviceable and the performances engaging. Its the sort of film that just carries you along for a good chunk of its running time. The trouble is that films insistence not to explain anything begins to take its toll in the later part of the film when you realize that they haven't explained a couple of key points which are left hanging and seem more like lapses in internal logic or laziness on the filmmakers part (like why the zombies come to that building). Sure the characters may not have known the answers to some of the questions but at the same time there are too many unanswered to be satisfying, especially when the film ends with a really big question. For gore hounds this is a must since they'll eat it up. For other horror lovers its worth a look since they'll like the things the film gets right.
Lorenzo von Matterhorn
Super Reviewer
The Horde (La Horde) Quotes
There are no approved quotes yet for this movie.