The Human Centipede II (Full Sequence)
(2011)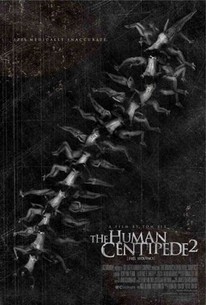 TOMATOMETER
AUDIENCE SCORE
Critic Consensus: The Human Centipede II (Full Sequence) attempts to weave in social commentary but as the movie wears on, it loses its ability to repulse and shock and ends up obnoxious and annoying.
The Human Centipede II (Full Sequence) Photos
Movie Info
Tom Six's internationally controversial follow-up to the original cult smash, The Human Centipede: Full Sequence ups the ante with a brute force unparalleled in motion pictures today. -- (C) IFC Films
People Who Like this movie also like
News & Interviews for The Human Centipede II (Full Sequence)
Critic Reviews for The Human Centipede II (Full Sequence)
Audience Reviews for The Human Centipede II (Full Sequence)
Tom Six manages to create a disturbing atmosphere using a black and white cinematography and wide angle shots, but this awful sequel drags forever with not enough material to fill 90 minutes and most of it is so vile and sickening that it just overwhelms whatever merits it has.
Carlos Magalhães
Super Reviewer
So I saw the first film after all the hype and talk about it being really nasty and shocking, and like many films throughout the years I was scoffing at how rubbish those claims were. Original in terms of the idea yes but hardly shocking, more bizarre, and you didn't even see much. Now we have the same issues all over again with the sequel, only this time its all completely bloody true I tell ya!!! Let me start by saying I have never felt quite so uncomfortable whilst watching a film since I saw the original 'Texas Chainsaw Massacre'. Right...so after I scrubbed my eyes and took some deep breaths I was able to clear my mind (kinda) and write about this errr film. I use the term 'film' loosely as this really does come across as director Six's own personal horror fetish fantasy. To be honest it is actually quite a unique piece of work and one could almost say its very arty or indie of sorts, apart from the gut wrenching gore of course. The film is in black n white which does give it a stylish approach, it also makes it more unnerving and leaning towards more realism. Add to that is the clever idea of virtually no dialog but mainly sound effects, the lead character does not speak one word, he merely grunts, squeals, cries and moans in very disturbing ways. There is of course some dialog from various characters but its very short and to the point, no messing around here no sir. The other thing about this film is the fact its not connected to the original in any way AND it shows the events of the first film as just that...a film. The main character in this sequel watches the first film on his laptop as an inspiration for him to carry out his own agenda, so the first film never happened in this franchises universe. Ashlynn Yennie who played one of the victims in the first film returns in this sequel as herself, so this sequel is basically in the 'real world' where as the first film is a film, fantasy/fiction. At first I didn't like this idea as it reminded me of 'Wes Craven's New Nightmare' where Englund plays himself but after getting into the plot I think its a pretty ingenious way to go for the follow up, complete U-turn and makes it more interesting for sure. Another plus point I must say is the casting of unknown Laurence R. Harvey as 'Martin Lomax'. Now this guy looks incredibly scary, spooky and quietly mental, he's short, disgustingly fat (his belly is a sight to behold), odd frog-like eyes and a receding hairline that's been made to look all greasy and demented. The way this guy just stares without blinking, his facial expressions when he gets upset, angry or excited just unnerve you BIG time!. Six did well in finding the crazy German Dieter Laser who looks like an evil Nazi scientist character type straight out of the videogame 'Wolfenstein', but he has outdone himself finding Harvey, how or where beats me but this guy is fudging creepy!. A big fat child like psycho who enjoys pain in rather eye opening ways. Of course the plot is totally dumb with some plot holes you could drive a Land Rover through. The fact that people are getting shot and bludgeoned all over the show and no one hears or see's anything ever and how on earth this nut job manages to do all this on his own isn't worth going into really. The film cuts to and fro a lot leaving it up to you to imagine how he did this and that or moved someone etc... Its all about gore and shock value here folks, you do see nudity both male and female, you do see the lead character play with himself (you will see his little fireman), there is plenty of blood and head bashing, teeth smashing with hammers, tendon cutting of the knees, throat cutting, bullets to heads, force feeding, injections of laxatives, people eating excrement and seeing it dripping from mouths as they do, stapling faces to asses, hints of child abuse, crooked abusive doctors, harsh British language, parent killing....need I continue? This film is actually so graphic the BBFC would not allow it unless it was heavily cut, I saw the uncut version and I can understand why, seeing the death of a new born baby by having its head crushed!? yep its pretty hardcore here folks. Very dark, very bleak, seedy, murky and very sadistic. On one hand its very original and highly imaginative as a horror/gore flick, but it hasn't got the psychological or realistic vibe that the original 'Texas Chainsaw Massacre' had. Its still very close to the bone and works well to make you uneasy, the sound effects alone will make you shy away in places believe me. Very nasty as Six delivers with his promise of more gore but you have to give kudos for the way he approaches it.
Phil Hubbs
Super Reviewer
Tom Six's follow-up to the Human Centipede is fairly average with nothing really great going for it. I thought the first film was terrific, I felt it was a new breed of body horror film that wasn't seen since 1980's David Cronenberg. However with this sequel, Tom Six just delivers a gross out horror flick that doesn't do anything more than disgust its audience, obviously that is the point, but how far can you push the limits of terror. In the past so many horror films have pushed the boundaries in defining terror and deliver the ultimate in shocks. Tom Six delivers a good sequel that is more gross out that actually terrifying. The first one was good because it displayed a tense atmosphere while holding back excessive gore and gross out content, which left a lot of room for the viewer to use his imagination. With this sequel, Tom Six delivers a film that is straight forward and in your face. This is definitely not a film for the faint of heart and it is pretty graphic in its content. This film explores the darkest elements of human nature and Tom Six is able to craft a relentless film that definitely makes you feel helpless. This is a film that relies on shock value. The fact is, the first film was better, and I thought it was something different. But this film just goes for gross out moments, which really ruins the films potential. A worthy sequel, but compared to the first, it doesn't have the same Thrill factor as the first. This one just amps up the stakes even higher and makes everything more disturbing, it works, but it could have been done better. Still if you're a fan of the first film, this is worth checking out.
The Human Centipede II (Full Sequence) Quotes