The Illusionist (L'illusionniste)
(2010)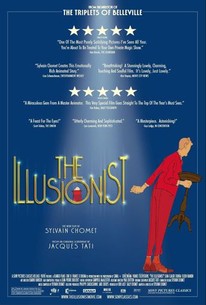 TOMATOMETER
AUDIENCE SCORE
Critic Consensus: An engrossing love letter to fans of adult animation, The Illusionist offers a fine antidote to garish mainstream fare.
The Illusionist (L'illusionniste) Photos
Movie Info
The Illusionist is one of a dying breed of stage entertainers. With emerging rock stars stealing his thunder in the late 1950s, he is forced to accept increasingly obscure assignments in fringe theatres, at garden parties and in bars and cafés. Then, while performing in a village pub off the west coast of Scotland, he encounters Alice, an innocent young girl, who will change his life forever. Watching his performance for the excited villagers who are celebrating the arrival of electricity on their remote island, Alice is awestruck by his show and believes his tricks are real magic. Though they don"t speak the same language, the two lonely strangers quickly bond through small kindnesses. Fascinated by The Illusionist, Alice stows away on his departing ship and follows him to Edinburgh. There, they quickly fall into a father - daughter relationship, with Alice keeping their home at a boarding house for vaudevillians, while he goes to work in a small local theatre. Enchanted by her enthusiasm for his act, The Illusionist rewards Alice with increasingly lavish gifts he has 'conjured' into existence. Desperate not to disappoint her, he cannot bring himself to reveal that magic does not exist and that he"s driving himself to ruin working all night jobs to buy her gifts. As The Illusionist grows older, Alice grows up. She falls in love with a young man and is no longer so enchanted by The Illusionist"s conjuring. She moves on with her life, and The Illusionist no longer has to pretend. Untangled from his own web of deceit, he resumes his life as a much wiser man. -- (C) Sony Pictures Classics
News & Interviews for The Illusionist (L'illusionniste)
Critic Reviews for The Illusionist (L'illusionniste)
Audience Reviews for The Illusionist (L'illusionniste)
A magician and a cleaning girl travel and attempt to make a life at his dying art. Predominantly silent, this animated film has moments of charm, but mostly its slow pace and lack of substance makes for a dull time. The final moment, with the illusionist's self-abnegation, wreaks of over-sentimentality, and while I might attempt to identify with it, I do so in only most maudlin way. Artistically, the animation is anti-realistic and cartoonish. It's hard to take the themes as seriously as the director would wish considering how the medium is the message in this case. Overall, though it might strike a few fancies, mine is not one of them.
Jim Hunter
Super Reviewer
MisterYoda ?
Super Reviewer
½
For its beauty and my expectations, high expectations, "L'illusionniste" is one of those films you just have to watch in a movie theater. Unable to do it, though, I had to go against Tati's 'principles' and watch it as only our modern time allows: the big screen was replaced by my laptop's one. Convinced that it was the reason of my disappointment, I watched it for the second time. The very beginning makes me smile. I like its humor. I can see Chomet's touch here and there. Visually speaking, there's no other way than say that "L'illusionniste" is perfect. However, something is missing. I could imagine "My Dog Tulip", amazing animation entirely supported by narration, without any words and it would be more interesting. Originality, that's the word. The weirdness, the chaos, the freshness of "Triplets of Belleville" gives place to an accessible and bland narrative. I like a lot the idea of the old illusionist trying to survive in a modern world of images and sounds. I like a lot the idea of two strangers who don't speak the same language trying to communicate somehow. I 've already seen myself in a similar situation, walking with a small dictionary in my bag, point out words I didn't dare to talk afraid of the wrong pronunciation. I like how such relationships can develop, but was it really necessary Alice to become a Barbie and meets prince charming? The end can be melancholic, but it's still a Disney fairy tale. After reading Richard Tatischeff 's letter, I felt relieved. He says how in the original script "the young girl attracts the attention of a handsome young man who exposes the conjurer's magic as fraudulent, nothing more than cheap tricks, illusions created to entertain an audience. Unable to hold onto her affections once his charade has been exposed the script concludes with the conjurer disappearing off into the sunset free of his deceit having as he always known he would lost the affections of the young girl to youth and the vibrancy of the city once she was able to see beyond his theatrics" . That was exactly my point. I was not convinced that Alice believed his illusions were real, even so, she is more amazed by what she can gain from his magic than the magic itself. She only discovers the truth with Tatischeff's note that "magicians do not exist". He would, of course, lose her for the young boy, but I'm sure he wouldn't lose Alice's affections even after "his charade had been exposed" because she is, like the boy, a good (in both meanings) fairy tale character. Something like that - "throughout his career Tati was often quoted as saying that his Hulot was just a character he had created and he himself was a very different person to what was seen on screen. The very title, l'Illusionniste illustrates how Tati was aware at how his public persona was a veil that contradicted the real man"- would be quite interesting. However, after watching "Mon Oncle", I have to say that Alice is quite possible the way she is portrayed. Tati would be more whimsical and not so emotive as Chomet is here, but I can picture Monsieur Hulot taking several jobs to dress up the neighbor's young daughter if in the same situation that Tatischeff and Alice were.
Rubia Carolina
Super Reviewer
The Illusionist (L'illusionniste) Quotes
There are no approved quotes yet for this movie.