The King and the Mockingbird
(2014)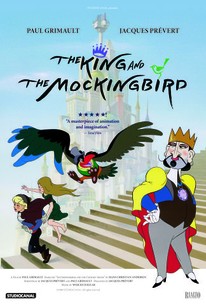 The King and the Mockingbird Photos
Movie Info
Based on a Hans Christian Andersen story, the wildly satirical THE KING AND THE MOCKINGBIRD follows a chimney sweep and shepherdess on the run from a tyrannical king. A masterpiece of traditional hand-drawn cell animation, THE KING AND THE MOCKINGBIRD is credited by celebrated Japanese animators Hayao Miyazaki and Isao Takahata as inspiring the creation of their own studio, the now world-famous Studio Ghibli. Its influence can also be felt in such films as Brad Bird's THE IRON GIANT. Grimault and Prévert (Children of Paradise, Port of Shadows, Le Jour se Lève) started work on MOCKINGBIRD in 1947, when it was planned to be France's first animated feature. A dispute stopped production, however, and it was released unfinished by its producer, without Grimault and Prévert's permission. Grimault spent 10 years getting the rights back and another 20 raising the money to finish the film as he and Prévert had envisaged it. It was finally finished and released in 1979, a few weeks after Prévert's death. Though it has been a favorite of French audiences for 35 years, it has long been unavailable in the U.S. due to rights issues. (C) Rialto
News & Interviews for The King and the Mockingbird
Critic Reviews for The King and the Mockingbird
Audience Reviews for The King and the Mockingbird
½
Did you know that one of the more tedious duties of being a king is having your portrait painted over and over again? That is no less true for King Charles XVI of Tachycardia. But it is even worse for him when his portrait takes over his life, and then obsesses over a shepherdess from a painting who is in love with a chimney sweep. Luckily for them, a mockingbird is able to save them from the king, the bird being a veteran of several skirmishes, both verbal and violent, with the real king. "The King and the Mockingbird" is an entertaining old-fashioned animated film that is equal parts surreal and political. In other words, it clears up the mystery of why the king's city is so underpopulated while ending on a very final Marxist note. So, while the movie specializes in some very memorable imagery, at other times, the movie's primitive level of animation makes this seem like a lost extended episode of "Heckle and Jeckle." And yes that's what I get for settling for the dubbed version.
The King and the Mockingbird Quotes
There are no approved quotes yet for this movie.