The Last Rites of Ransom Pride
(2010)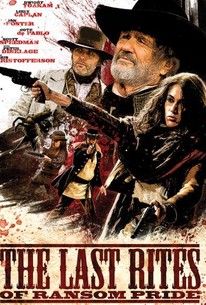 AUDIENCE SCORE
Critic Consensus: No consensus yet.
The Last Rites of Ransom Pride Photos
Movie Info
When the life of her outlaw lover comes to a violent end, a mysterious woman (Lizzy Caplan) embarks on a quest to bring his body home and give him a proper burial. Co-starring Peter Dinklage, Dwight Yoakam, and Kris Kristofferson.
Critic Reviews for The Last Rites of Ransom Pride
There are no critic reviews yet for The Last Rites of Ransom Pride. Keep checking Rotten Tomatoes for updates!
Audience Reviews for The Last Rites of Ransom Pride
½
An action, sorta Western, muddled mess and thankfully it's over in just over 80 minutes. The Last Rites of Ransom Pride is literally all over the place and it's story is hard to handle as the film is so harsh and monotone yet ridiculous too. There is a lot of fast cutting, inserted flashback frames after a given event, and camera movement all of which just adds to the frantic and witless mess.
Chris Browning
Super Reviewer
½
"The Last Rites of Ransom Pride" starts with Ransom Pride(Scott Speedman) forgetting that one should never turn your back in a gunfight. In wanting to fulfill her promise to him that his body be buried back in Texas next to his mother, his partner/lover Juliette Flowers(Lizzy Caplan) has to deal with the formidable Maria de Morena(Cote de Pablo) who says that since Ransom killed a priest in the gunfight, blood will have to be exchanged for his body. Juliette goes back to the source for his brother Champ(Jon Foster) which angers his father, the Reverend Early Pride(Dwight Yoakam), who hates Juliette in the first place, even further. So much so, that he becomes reacquainted with sin in contracting out with Shepherd Graves(Kris Kristofferson) to hire killers. "The Last Rites of Ransom Pride" is a dark, moody and violent western with an eclectic cast.(So, of course, Peter Dinklage gets the best line.) In that case, it does not come entirely down to whether or not you buy Lizzy Caplan as a badass. Of more important concern is the lascivious way she is filmed but that is more a factor of the way Juliette is leered at by less than savory characters who toss around the word 'whore' like hopefully it is going out of style. This is an old west that appears to be a wasteland and graveyard for myths with the twentieth century starting to make itself known in inventions like the horseless carriage. But true progess never comes easily. Just remember that even the devil can quote scripture.
Tiller Russell's The Last Rites of Ransom Pride doesn't live up to its name.
The plot has potential in this Western genre of film, but the failure is the way it unfolds. Despite a brief run time that doesn't even reach 80 minutes, everything that happens comes across as monotone and uneventful, which makes it a struggle to reach the climax.
The film has its share of shootings throughout; however they end up brief and hindered by some so-so editing. Speaking of the editing, there are multiple occurrences when the film pushes forward by employing some quick few second flashbacks of what just transpired. They aren't as impressive as they sound.
What this picture does have going for it is the acting. Don't get this mixed up with the likability of the characters because they are pretty unlikable all around. If these characters were part of a different story, things may have turned out better. Lizzy Caplan, Dwight Yoakam, and Cote de Pablo throw together some amusing performances. A number of other notable faces pop in throughout the film as well.
By the end, The Last Rites of Ransom Pride doesn't contain a whole lot to recommend. If need be, then go ahead and watch it. Just don't expect much.
The Last Rites of Ransom Pride Quotes
| | |
| --- | --- |
| Ransom Pride: | How can a person kill his own father for a f**king whore? Please don't waste your valuable 80 minutes to watch this disgusting movie. |