The Lost Bladesman (Guan yun chang)
(2011)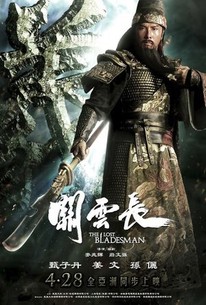 The Lost Bladesman (Guan yun chang) Photos
Movie Info
This epic is loosely based on the story of Guan Yu crossing five passes and slaying six generals in Luo Guanzhong's historical novel Romance of the Three Kingdoms.
Critic Reviews for The Lost Bladesman (Guan yun chang)
Audience Reviews for The Lost Bladesman (Guan yun chang)
½
Hong Kong duo Felix Chong and Alan Mak take on the martial arts epic for the first time, adapting the story of Guan's (Donnie Yen) killing of six generals from historical novel Romance of the Three Kingdoms. Current martial arts heavyweight Yen weilds Guan's famed guan dao blade to slay legions also admirably flexing his best stoic acting muscles. Despite its aspirations (and predictably impressive fights), The Lost Bladesman never reaches the heights of Red Cliff or Hero, lacking the scale of the former and the emotional resonance of the latter.
Dean McKenna
Super Reviewer
½
The Lost Bladesman, from directors Felix Chong and Alan Mak, showcases everything it needs to, to be a worthwhile picture.
Aside from an introductory soldier battle, the early going of this hour 40 minute production puts a lot of focus on laying out character relationships and story. In the grand scheme of things, this is needed; however, because there is a lot to unfold, things get a little smothering and also tiresome.
The martial arts' sequences don't kick into high gear until deeper into the film. Backed by some strong choreography and a variety of settings, watching Donnie Yen wield a long-handled blade is a delight.
Donnie Yen's portrayal of Guan Yu is a tad monotonous, at least for the dramatic pieces, but watching him in action tends to make up for that. Jiang Wen deserves praise for his performance as he handles a character that can be both perceived as a villain and a hero. Betty Sun is a sight for sore eyes as the only female with major minutes.
Despite a few blemishes, The Lost Bladesman ends up as a promising period piece film out of China.
The script has it's ups and downs, Yen's acting is still on a limited range, but there has been some improvements. Good fight sequences, one in a water mill gets a bit sabotaged thanks to the poor use of light and shadow. The film has good pacing, it delivers what it promises.
Tsubaki Sanjuro
Super Reviewer
The Lost Bladesman (Guan yun chang) Quotes
There are no approved quotes yet for this movie.