The Lost City of Z
(2017)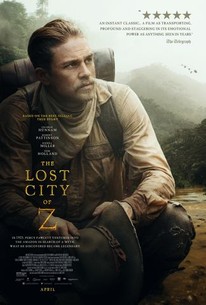 TOMATOMETER
AUDIENCE SCORE
Critic Consensus: The Lost City of Z's stately pace and visual grandeur hearken back to classic exploration epics, and Charlie Hunnam turns in a masterful performance as its complex protagonist.
The Lost City of Z Videos
The Lost City of Z Photos
Movie Info
Based on author David Grann's nonfiction bestseller, "The Lost City of Z" tells the incredible true story of British explorer Percy Fawcett (Charlie Hunnam), who journeys into the Amazon at the dawn of the 20th century and discovers evidence of a previously unknown, advanced civilization that may have once inhabited the region. Despite being ridiculed by the scientific establishment who regard indigenous populations as "savages," the determined Fawcett - supported by his devoted wife (Sienna Miller), son (Tom Holland) and aide-de-camp (Robert Pattinson) - returns time and again to his beloved jungle in an attempt to prove his case, culminating in his mysterious disappearance in 1925. An epically scaled tale of courage and passion, told in writer/director James Gray's classic filmmaking style, "The Lost City of Z" is a stirring tribute to the exploratory spirit and a conflicted adventurer driven to the verge of obsession.
News & Interviews for The Lost City of Z
Critic Reviews for The Lost City of Z
Audience Reviews for The Lost City of Z
I feel like I'm going nuts. We went to see this based on a raft of glowing reviews from people like Anthony Lane and Peter Travers and it is without a shadow of a doubt the worst scripted, worst photographed, most poorly acted film I have seen in a cinema since I cannot remember. Charlie Hunnam manages to be worse that he was in 'Pacific Rim.' His English accent is less convincing than his American one. Platitudes and cliches drop from his lips like stones. The period detail is execrably bad; the editing is all over the place; entire shots are out of focus; the old-age make-up is terrible; in one scene the colour is so off that it looks like he's wearing salmon-pink lipstick in the WWI trenches. For heavens' sake do not spend money on this. Go watch 'Embrace of the Serpent' or rewatch 'Fitzcarraldo' instead.
Charles Brennan
Super Reviewer
BURDEN OF HIS DREAMS - My Review of THE LOST CITY OF Z (4 Stars) Writer/Director James Gray (THE IMMIGRANT, TWO LOVERS) has been slowly and steadily building an astounding career that would be similar to that of Francis Ford Coppola if people cared about movies now the way they did back in the 1970s. Instead, his films remain little seen despite garnering much respect. I doubt things will change with his latest, THE LOST CITY OF Z, based on the biography by David Grann, but he has made a stunning, thoughtful adventure epic nonetheless. Charlie Hunnam, in a role originally marked for Brad Pitt and then Benedict Cumberbatch, plays Percy Fawcett, an undecorated Major in the turn-of-the-century Royal Army, who has difficulty rising in the ranks due to his father's reputation. One character casually remarks, "He's been rather unfortunate in his choice of ancestors," which is a particularly well-written line that sets the stage early for the bigotry, misogyny and class divisions this film explores so well. Opportunity knocks when the Royal Geographical Society (RGS) plucks Fawcett to lead a map-making expedition along the disputed border between Brazil and Bolivia. He leaves behind his wife Nina (a terrific Sienna Miller) and their newborn son for years and is joined by a crew that includes an almost unrecognizable and wonderfully understated Robert Pattinson as Henry Costin. Their trip through the Amazon proves harrowing, but when they stumble upon some artifacts and learn of a Lost City, Fawcett gets a fire in his belly. If he can prove to the world that the inhabitants of the Amazon are wise artists instead of the stereotypical savages his fellow countrymen would have the world believe, then he could change the world. As depicted in the film, when he returned from his first tour, Fawcett became a crusader against his society's ills. In a thunderous sequence, he takes on the entire RGS with the news of his findings. Their white privilege won't allow them to believe him, but he insists on returning to find that elusive city. In addition to the jungle conditions, many other obstacles get in his way. Chief among them is World War I, depicted briefly but effectively. He also battled his wife and children, who resented his absence and his patriarchal insistence that Nina stay home instead of joining him on his adventures. They have an incredible showdown when Nina makes it clear that his adventurous life has come with a cost. It has been said that Fawcett inspired the Indiana Jones character, but those expecting a RAIDERS OF THE LOST ARK saga will be disappointed. This stately, patient, glorious film feels more like the love child of APOCALYPSE NOW, EMBRACE OF THE SERPENT, and a little FITZCARRALDO thrown in for good measure. Yes, there are some exciting action set pieces, but Gray seems more interested in Fawcett's internal journey than in crafting whiz-bang action. He even welcomes some surreal imagery, courtesy of the phenomenal cinematographer, Darius Khondji, as this mostly traditional story unfolds and it's what elevates the somewhat standard material to something that approaches art. Hunnam gives a confident, commanding performance, and all I kept thinking was how far he's come as an actor. Even from the first time I saw him in the original QUEER AS FOLK, he exuded star quality, but this film truly puts him on Brad Pitt's level. In fact, it's a good thing Pitt dropped out of the project yet retained his title as Producer. We see Fawcett for a 20 year period of time, from his 30s to his 50s, and it's easier and more credible to age up and actor like Hunnam than it is to age down Pitt. In a film filled with wonderful performances, Tom Holland (THE IMPOSSIBLE, SPIDER-MAN) also stands out as Fawcett's resentful son Jack. Since the times wouldn't allow for Nina's feminist aspirations to bear fruit, the dreams get transferred to Jack, and I found his point of view tremendously moving despite very limited screen time. For many, this film will feel too episodic, too much like a rambling novel, and at 140 minutes, I can understand that. For me, however, I loved the traditional three-act structure and the multiple returns to England. The stark contrasts between the two civilizations kept reminding me of what's at stake. Fawcett, to some, was an obsessive with blinders on, but in THE LOST CITY OF Z, he fought against social tyranny and an ordinary life. He risked the great unknown so that we could open our minds a little, and that is worth celebrating with this powerful, vivid film.
Glenn Gaylord
Super Reviewer
Lost City of Z is a welcome change of pace in a season where production value sells over story. It's a slow-burning yet epic adventure about an explorer named Percival Fawcett (played by Charlie Hunnam) who sets out to find a city allegedly made of gold, deep in the South American wilderness . He was great in Sons of Anarchy, and he holds an even greater screen-presence now that he's made it to the big leagues. It's the sincerity and passion he brings to the character that makes you want to find the lost city as much as he does. Robert Pattinson is also great and nearly unrecognizable as a researcher accompanying Percival on the adventure. At 140 minutes, I was surprised to find that it didn't feel dragged out and that every scene felt like an integral part of the overall story arc. It's kind of like if Indiana Jones were to be a real person, without the Hollywood cliches attached to it. This is a beautifully shot, epic tale that will likely be just as good 10 or 20 years from now.
Kevin Mozulay
Super Reviewer
The Lost City of Z Quotes
There are no approved quotes yet for this movie.
Discussion Forum
Discuss The Lost City of Z on our Movie forum!