The Magnificent Seven
(2016)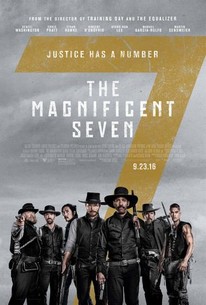 TOMATOMETER
AUDIENCE SCORE
Critic Consensus: The Magnificent Seven never really lives up to the superlative in its title -- or the classics from which it draws inspiration -- but remains a moderately diverting action thriller on its own merits.
The Magnificent Seven Videos
The Magnificent Seven Photos
Movie Info
Director Antoine Fuqua brings his modern vision to a classic story in Metro-Goldwyn-Mayer Pictures' and Columbia Pictures' The Magnificent Seven. With the town of Rose Creek under the deadly control of industrialist Bartholomew Bogue (Peter Sarsgaard), the desperate townspeople, led by Emma Cullen (Haley Bennett), employ protection from seven outlaws, bounty hunters, gamblers and hired guns - Sam Chisolm (Denzel Washington), Josh Farraday (Chris Pratt), Goodnight Robicheaux (Ethan Hawke), Jack Horne (Vincent D'Onofrio), Billy Rocks (Byung-Hun Lee), Vasquez (Manuel Garcia-Rulfo), and Red Harvest (Martin Sensmeier). As they prepare the town for the violent showdown that they know is coming, these seven mercenaries find themselves fighting for more than money.
News & Interviews for The Magnificent Seven
Critic Reviews for The Magnificent Seven
Audience Reviews for The Magnificent Seven
½
The remake of the famed-western doesn't offer up anything revitalizing or innovative to make it superior but does supply enough in its third-act to make for a solid shoot-em-up effort. The Magnificent Seven provides a good amount of action and charm despite its slow start and predictability; regardless, an entertaining flick with a star-drenched team to revel in. 3.5/5
Eugene Bernabe
Super Reviewer
½
If there is an issue I have with this remake is that these mercenaries become heroes fighting for justice too fast, but all that is compensated by how thrilling and intense it is, with amazing visuals and a production design that makes it look like a true throwback to classic Westerns.
Carlos Magalhães
Super Reviewer
½
So surely everyone knows this is a modern remake of the old 1960's classic western, which itself was a remake of the old 1954 Japanese classic 'The Seven Samurai'. And again surely everyone knows how influential both movies, especially the 54 film, have been in cinematic history. So this does beg the question, do we really need to see yet another remake of this concept? Do we really need an almost exact copy of the 1960's version merely with up to date stars? The answer to that is no we don't. So what we have here is essentially the same film albeit with minor changes throughout, because you can't make a beat for beat remake can you (ahem!). So that means you have a small town in the wild west of America that is under threat from a corrupt industrialist, a Mr Bartholomew Bogue (Peter Sarsgaard). Mr Bartholomew is using the good people of Rose Creek as slaves to mine for gold, I think that's what it was, doesn't really matter. His henchmen kill a load of innocents when they stand up to him which forces Emma Cullen (Haley Bennett) to go off in search of help. Cullen comes across warrant officer Sam Chisholm (Denzel Washington) and manages to convince him for the job. Chisholm then sets off to hire more good men to help him. What follows is surely obvious to all. So lets look at the heroes, the seven. Well its a nicely rounded, dare I say, politically correct group of gunslingers that's for sure. Most of whom are gunslingers by default but some have other skills too. Yes the group is diverse but for me it was a little too obviously diverse. You've almost got a person to represent every community, which is fine for marketing purposes (and today's overly sensitive climate) obviously, but it just seemed a bit too forced to me. So looking at the characters what have we got. Denzel Washington naturally plays the all round hero and leader of the gang, Sam Chisholm. Of course we discover that Bogue had killed his family years earlier so that's very convenient and cliched. The overrated Chris Pratt is Joshua Faraday, a ladies man and slick gambler. Ethan Hawke plays the hard to pronounce and stupidly named Goodnight Robicheaux. A southern dandy type who fought for the confederacy and is a sharpshooter, he's basically the Doc Holliday of the bunch. Vincent D'Onofrio plays Jack Horne, a larger than life man of the wild who likes to stab people and wears an odd hat. Lee Byung-hun is Billy Rocks (again stupid name), an immigrant who is an expert with knives and doesn't use martial arts amazingly. Manuel Garcia-Rulfo is the stereotypical Mexican of the team who uses two guns. And lastly Martin Sensmeier plays the native American Red Harvest who does exactly what you'd expect the character to do, looks exactly as you'd expect him to look and joins the team for no real reason whatsoever. Its like he joins just so they have a native American on the team. But wait there's more! Just to really make sure everyone is covered in this modern remake, we even get a woman on the team at one point (Cullen), technically. Nothing wrong with that of course, but again it just feels a bit forced, a bit obvious. So how do they compare to the 1960's seven? Well lets be frank here, they can't compare in any way, how could they, I don't even have to explain why. Plot wise its actually a very similar affair though. The old seven consisted of a Cajun (the fast gun), a drifter (the humorous one), a knife expert (errr...the fast knife guy), a fortune seeker (after lots of loot any way possible), a traumatised veteran (once feared, since lost his nerve), a brash young gunfighter (wanting a reputation as a tough guy and gunslinger), and a half Mexican, half Irish professional in dire need of cash (the loser?). The old movie does utilise diversity for sure but its not as obvious, not as in your face, the old seven feel a bit more natural. But the old team were helping Mexican townsfolk where as the new movie shows the seven helping a more white European bunch of townsfolk. Some interesting switches there. Obviously there are plot differences between the 1960's version and this new remake, I won't delve into them as this isn't really a comparison of both movies. I compared the characters because they are clearly the meat and potatoes of the movies and in both cases have big A-list names attached. This remake is a technically impressive film that's for sure. Nothing that will blow your mind I might add as we've seen it all before, but nonetheless, credit where credits due, this film does look the bees knees. The camera work on the landscapes, the wild west sets both exterior and interior, the costumes, the weapon close-ups, the make-up, the pinging bullets, stunts, the camera work on gunslinging etc...Everything looks slick, crisp and completely authentic, as said...as you would expect these days. But even though the majority of the movie does look sweet, they do mess things up by going over the top in places. For example the character of Billy Rocks, sure he looks cool...but maybe too cool? Having all these small katana blades around his waist seemed a bit silly to me, a bit too comicbook-ish. All the main heroes seemed a tad overdressed for my liking, a bit too flash really. Also at points the camera work/angles on some gun fights almost seemed almost too good, too flashy; maybe a more grounded approach would have looked better? As for action, fisticuffs and other such cliches, well its a mixed bag of dull and dumb truth be told. For a start we all know what's gonna happen, how its gonna end. We all know most of the good guys will be killed off in heroic last stands (I won't say who but...its all very clearly politically correct put it that way). The gun fights are loud and realistic but totally cliched and uneventful. The big finale at the end is even more cliched and even more ridiculous than I even thought possible. Big bad guy Bogues has this entire army of a few hundred men descending on this small town, yet seven men manage to fend almost all of them off, riiight. All of the good guys seem to have guns with infinite bullets in them, hardly ever do we see much reloading. The bad guys are a constant stream of stupidity, literally one after another running into plain view for the good guys to gun down easily. All the bad guys are utterly useless at gun fighting...and taking cover. And lastly, Bogues has around two hundred men I think it was, so that's a lot sure. But I would say at least half are killed in the first wave of attack on the town. Then after that each of the seven take down loads of these useless cowboys, one after another like on a shooting range. It just feels like the good guys take down way too many bad guys, of which there seems to be an endless stream. Plus we never see any horses get killed despite the fact that clearly tonnes would have been blown to pieces. On one hand a modern retelling is a good way to show how an old movie could look with up to date effects, camera work, stunts etc...On the other hand it can still be completely pointless in many cases, and this just happens to be another case. Bottom line, all you have here is a remake just for the sake of a remake in order to use current big bankable stars together. Why do I get the feeling the bigwigs behind this are just jumping on the current 'Avengers' team-up angle, sticking groups of A-list names together in anything they can. The thing is they didn't even make good casting choices in my opinion. There are way better and more interesting actors that could have been cast here, both A-list and B-list/quirky character actors. There really is no reason to ever come back to this after your first viewing; why would you when you have two far better original movies to watch instead. Yep this flick isn't gonna stick with you for very long, already forgotten, next!
Phil Hubbs
Super Reviewer
The Magnificent Seven Quotes
There are no approved quotes yet for this movie.