The Man of My Life
(2007)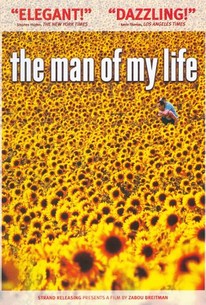 Movie Info
The family that centres the story is typically middle-class, but just happens to be well-adjusted and happy. Frederic is deeply in love with his wife, Frederique, and they have a jolly, rambunctious child. There are no clouds on their horizon. Long hours are spent soaking up the sun, swimming in nearby rivers and enjoying wine and food on terraces. One day Hugo, a new neighbor, appears. He is invited for dinner; one thing leads to another and conversation soon reveals that Hugo is gay. So begins a finely inscribed depiction of a growing friendship between two men: one is happily married, monogamous and deeply settled in his ways; the other is a restless free thinker who does not believe in love and moves freely between multiple relationships.
News & Interviews for The Man of My Life
Critic Reviews for The Man of My Life
Audience Reviews for The Man of My Life
"The Man of My Life," the second film from French filmmaker / screenwriter / actress Zabou Breitman, isn't very good, but at least it's ambitious. It tries to explore new emotional territory. While it's pretty seriously flawed and sometimes laughably flat-footed and pretentious, it is the work of a genuine artist. One that is still learning her craft; but then aren't we all. The story, which Breitman co-wrote, introduces us to a delightful, down-to-earth family vacationing in a gorgeous villa in the south of France. (The setting is exquisite, and the cinematography is ravishing. This is the true French countryside.) Moving in next door is a single gay man, whom the family befriends. Gradually through the course of the summer, a special bond develops between the father (played very well by Bernard Campan) and the neighbor. At times they seem like two giddy boys together. Little by little, it appears that they might be falling in love. Their conversations get quite deep, exploring feelings about family, love, relationships, children, etc. And each late-night conversation leaves them oddly moved and oddly uncomfortable. So much seems to be going on just below the surface. The film doesn't have much of a dramatic arc. It doesn't want to be a coming-out melodrama, although there is a little bit of that. It mostly wants to raise questions and explore the emotional landscape of middle-aged men feeling the ground beneath them shifting uncomfortably. The weaknesses in "The Man of My Life" are so significant that I cannot recommend it. But at a minimum, it makes me want to try one more Breitman film to see if she pulls off her interesting experiments with more success elsewhere. (She has directed two more films since completing this one.) It is interesting to ponder what it must be like for straight married men who start to feel their sexuality open up in middle age. From what I can tell, this is happening quite a bit lately. My heart goes out to these men as they struggle to balance loyalty to family with loyalty to their own hearts.
William Dunmyer
Super Reviewer
½
Beautiful images, good acting.
The Man of My Life Quotes
There are no approved quotes yet for this movie.