The Man Who Loved Women (L'Homme qui Aimait les Femmes)
(1977)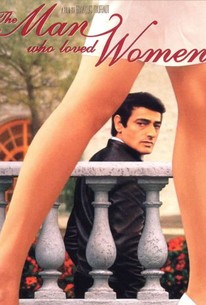 The Man Who Loved Women (L'Homme qui Aimait les Femmes) Photos
Movie Info
Scientist Bertrand Morane, "never in the company of men after 5," seduces women by evening and writes about the experiences in the early morning. Though 40ish and somewhat square, no woman in the town of Montpelier seems capable of resisting his earnest advances. Not much else happens in The Man Who Loved Women, but in the hands of master visual storyteller François Truffaut, the threadbare plot accumulates deep and ominous philosophical resonances. What drives Morane from woman to woman, and what accounts for his remarkable success? Does he secretly dislike women and consider them interchangeable (as one of the more prurient characters charges, to Morane's genuine befuddlement), or is his enthusiasm a kind of celebration? Truffaut refuses to answer plainly, but does drop clues; as his camera focuses on everyday objects, many take on a chilling, otherwordly luster, and coldly foreshadow Morane's fate. A deceptively simple film, The Man Who Loved Women is neither an indictment nor an apology for philandering; rather, it's a courageous, lovingly detailed portrait of a complex, intelligent man suffering from an altogether intractable complaint. This film was clumsily remade in English in 1983 by Blake Edwards, with Burt Reynolds assuming the role played here with such understated skill by the wonderful Charles Denner. --Miles Bethany
Critic Reviews for The Man Who Loved Women (L'Homme qui Aimait les Femmes)
Audience Reviews for The Man Who Loved Women (L'Homme qui Aimait les Femmes)
A scientist writes about book about his sexual exploits. As I watched this film, I wondered if it was supposed to be satirical comedy or if there was something I wasn't understanding, that it was saying something complex about sexual politics. Even as the film drew to its conclusion, I couldn't figure out if Francois Truffaut was taking me for a ride that ended nowhere or if I simply wasn't smart enough to be in on the joke. I feel the same way now. What is certain is that this is a lesser Truffaut film, not up to Antoine Doinel par, but nevertheless the images are sharp, the plot unfolds with ease, and the acting is quite good; Charles Denner is uninhibited and occasionally charming. I wish the film would have more fully explored his few attempts at love over lust, but considering I don't really know what Truffaut was shooting at, I don't even know if this a fair criticism. Overall, I suppose this should be on one's checklist of Truffaut films to see, but there are so many better ones.
Jim Hunter
Super Reviewer
"The Man Who Loved Women" is an engaging, easy-to-watch story, but if you're a film buff looking for bold hallmarks of the French New Wave, you won't find much. Really, the only deviant touch is one self-reflexive scene in which some book publishers discuss the autobiography which the protagonist has submitted. It's as if the film's script is already being critiqued within itself. Otherwise, the plot structure involves flashback and is somewhat episodic, but this is simply the best way to tell the tale rather than an aggressive "challenge" to the viewer. So, your best bet is to take off your scholar's robes and just *enjoy* this gentle, bittersweet fable of an unlikely, not-so-dashing womanizer who wins all hearts through sheer sincerity and persistence. One advisory: There is not nearly as much titillation as one might expect, given the subject matter.
Eric Broome
Super Reviewer
½
Far from Truffaut's best films, but still a very nice and funny recollection of the romantic and ultimately sad story of a daring womanizer in the search for the meaning of love.
Pierluigi Puccini
Super Reviewer
The Man Who Loved Women (L'Homme qui Aimait les Femmes) Quotes
There are no approved quotes yet for this movie.