The Mayor of Hell
(1933)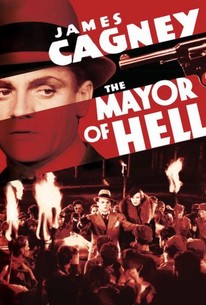 AUDIENCE SCORE
Critic Consensus: No consensus yet.
Movie Info
Gangster Cagney allows his powerful political connections to appoint him "deputy inspector" of a state reform school. There he finds the youths abused and battered by a brutal, heartless warden and his thuggish guards. It is a nurse who informs Cagney and pleads with him to clean things up. Something touches Cagney's normally hard heart and he commits himself to enacting more humane reforms. Soon, he gets the warden booted out and begins working closely with the inmates, who come to trust and respect him until Cagney's dark side emerges and he reveals himself for what he is--a ruthless mobster. This destroys the boys' trust and when the old warden is reinstated makes matters even worse until Cagney makes a difficult choice. ~ Sandra Brennan, Rovi
Critic Reviews for The Mayor of Hell
Audience Reviews for The Mayor of Hell
The Mayor of Hell sounded like it was going to be a weak version of Angels With Dirty Faces but it was surprisingly more than what I'd initially expected. James Cagney plays a racketeer who starts taking a cushy in-title-only government job at a boys reform school seriously. The last half hour starts falling apart a bit once you discover the focus isn't quite where you thought it was but the final fifteen minutes redeem the flimsy third act quite a bit. Cagney plays Cagney and quite a few of the inmates, I mean students turn out some pretty good performances. If you can consider The Mayor of Hell one of the early Warner Bros. gangster movies, I'd say its one of the better ones...
Michael Gildea
Super Reviewer
An okay movie, but I've seen others just like it, so it wasn't all that interesting, and the beginning is really boring. The end is where it gets exciting.
James Cagney is wonderful -- when is he not? -- as a gangster who, through a political favor, becomes the head of a boys' reform school formerly run by a sadistic warden. Great performances by the teenage boys cast in the primary roles, This film had a lot to say about whether punishment or reform is the point when children are put away. Even more relevant now in an age of rampant adolescent crime, "boot camps" and alternative schools.
The Mayor of Hell Quotes
There are no approved quotes yet for this movie.
Discussion Forum
Discuss The Mayor of Hell on our Movie forum!