The Mother and the Whore (La Maman et la putain)
(1973)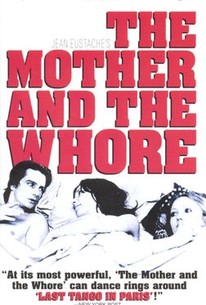 TOMATOMETER
AUDIENCE SCORE
Critic Consensus: The Mother and the Whore (La Maman et la putain) finds writer-director Jean Eustache working at peak form to deliver a gripping statement on late 1960s French society.
The Mother and the Whore (La Maman et la putain) Photos
Movie Info
In this intense character study, irresponsible Parisian Leaud decides that he desperately needs a wife and so leaves his lover to propose to his ex-girlfriend. His self-absorbed pseudo-intellectual ramblings turn her off, and she turns him down. He meets a nurse who later involves herself with Leaud and his lover.
Critic Reviews for The Mother and the Whore (La Maman et la putain)
Audience Reviews for The Mother and the Whore (La Maman et la putain)
½
Even if Eustache's romantic side takes the lead in the end and reduces a bit its power, this is a vibrant film that pulses with a youthful verve and feels so alive even in its imperfections, and it feels nearly impossible not to fall in love with Léaud's adorably annoying character/persona.
Carlos Magalhães
Super Reviewer
"The Mother and the Whore" is a black-and-white, French-language film which lasts over three and a half hours and consists of nothing but intimate, two- and three-person conversations. For most people, the above is all they need to know. Enough said -- forget it! But for more patient viewers, Jean Eustache's career-defining film may prove fascinating. Even if the scenario is hardly the stuff of epics. Alexandre (Jean-Pierre Leaud) lives with Marie (Bernadette LaFont). They love each other, but have a warily open relationship. This means she allows him to chase other women (including Gilberte, a past lover who deceptively seems like a main character at first), but not without dragging him through a testy quarrel. Marie has a dress shop, and it's implied that dandy Alexandre casually lives off her earnings. She ("the Mother") indulges him like a child, and even seems to pick out his clothes. After a final farewell to Gilberte, Alexandre yearns for consolation and quickly spots glum, black-clad Veronika (Francoise Lebrun) in a cafe. He pursues a relationship with her too. Marie gripes as the bond deepens and he spends more time away from home, but she always ends up forgiving him. Eventually, the two women accept each other and even become friends, but one watches the film wondering if it's building to some extreme jolt (perhaps like the similarly lengthy "Jeanne Dielman, 23 Quai du Commerce, 1080 Bruxelles"). Obviously, this is a movie about character rather than action. Alexandre is a typical Leaud vehicle: anxious, delicate, boyishly charming and full of self-indulgent ramblings. There can't have been many film roles which include more lines for one actor. He talks and talks and talks, until his companion smiles at his sheer energy. In contrast, Veronika is more quiet and blank-faced. A chain-smoking, heavy-drinking nurse who dresses and styles her hair to minimize her beauty, she has slept with numerous men but draws no real pleasure from it. She discusses sex and her tampons in an oddly frank, nonchalant way. But in a climactic monologue which spans several minutes, she breaks down and tearfully insists that sex is meaningless unless it's for love or procreation. She does say she loves Alexandre, but it's not clear why she should. Marie is the least defined of the three. She is grounded, intelligent and responsible, and represents "home base" for Alexandre. She's rarely seen outside of the apartment they share, and many of her scenes with him have a similar arc: She vents some cutting comments about his infidelities, then abruptly brightens and exchanges a kiss or affectionate line. At one point, she says "You assh*le, you know I love you" -- this just about sums up her half of the relationship. A few other friends pop into the story (here's where the film could be edited), but the bulk of the action revolves around Alexandre, Marie, Veronika and (early on) Gilberte. And this is a post-New Wave work, so of course the dialogue is loaded with nods to other film names including F.W. Murnau, Charlie Chaplin, Marcel Carne, Robert Bresson, Fernandel, Nicholas Ray and Jean-Paul Belmondo. Meanwhile, there is no score at all, but Alexandre's beloved record player supplies diegetic music from Marlene Dietrich, Edith Piaf, Offenbach, Mozart and others (while enjoying the tunes, Leaud also reveals that he happens to be quite a good whistler). Director Jean Eustache committed suicide in 1981, and unfortunately completed just one full-length feature and a few shorter films after "The Mother and the Whore."
Eric Broome
Super Reviewer
A humongous effort,this 4-hour epic,unsettling,long dialogue is one of the finest pieces of post-nouvelle vague in the history of world cinema.I hate the main character.And it's ironic because it's somehow flamboyant....the way he rejects the emotional state of the women in his life.Life as a big joke or as a wee bit of adventure simultaneously.One of cinema's most thrilling triplets.
Dimitris Springer
Super Reviewer
The Mother and the Whore (La Maman et la putain) Quotes
There are no approved quotes yet for this movie.