The Night Evelyn Came Out of the Grave
(2003)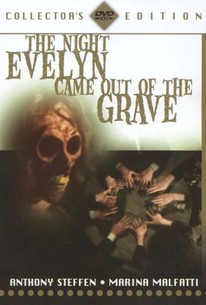 AUDIENCE SCORE
Critic Consensus: No consensus yet.
The Night Evelyn Came Out of the Grave Photos
Movie Info
In this horror flick, a wealthy playboy obsessed with his dead, red-haired wife tortures and kills redheads in the specially built dungeon of his castle. His first victim is a stripper who performs out of a velvet-lined coffin. Eventually, he comes to believe that his wife has risen from the grave to haunt him.
Critic Reviews for The Night Evelyn Came Out of the Grave
All Critics (4) | Fresh (1) | Rotten (3) | DVD (1)
It's a confused plot-by the time the film ends it's completely forgotten that he's an insane serial killer... But it's also a handsome film with great locations and art direction and a memorable mix of fashions.
It's tough to knock a movie entitled The Night Evelyn Came Out of the Grave - but the dreary pacing, unconvincing performances and meandering narrative help make things a bit easier.
Audience Reviews for The Night Evelyn Came Out of the Grave
A wealthy playboy tortures and kills redheads who remind him of his ex-wife, until he marries one and his problems really start. About the best thing that can be said for this tawdry giallo is that it evokes a certain distinctive era of leisure-suit sleaze; guys who've been dumped by redheads may find it therapeutic, too.
What is there to say about this movie that hasn't already been said? La notte che Evelyn uscì dalla tomba (The Night Evelyn Came Out of the Grave) is just not a great movie, at all. It's European trash cinema that somehow made its way from Italy to Britain and then to the US. The plot is very much convoluted, and the movie has no clear idea in what direction it wants to take. Sometimes it's a haunted house movie; other times it's a deranged serial killer sort of movie; and then there are times when it's a giallo. It's really all over the place. It also seems to move too quickly and never nail down exactly what it is that it's about, or what kind of tone it wants to set. It manages to kick in some odd thrills and chills in different places, but ultimately nothing exciting. It feels more akin to sexy giallo thrillers like Asylum Erotica, but then again it doesn't even rise to that level. I found it somewhat entertaining, in a bad yet good way, but I spent most of my time trying to figure out just what in the hell it was all about. I don't think that was intentional and it just winds up being a big mess, not to mention a giant mish-mash of ideas, tones and story points. Pretty much skippable.
Tim Salmons
Super Reviewer
A little campy, a little titillating, a little scary (VERY little).
Randy Tippy
Super Reviewer
The Night Evelyn Came Out of the Grave Quotes