The Open House
(2018)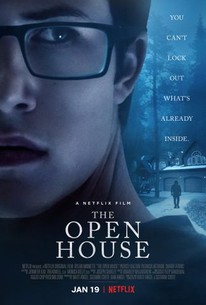 Movie Info
Following a tragedy, a mother and her teen son move to a relative's vacant vacation home, where eerie and unexplained forces conspire against them.
News & Interviews for The Open House
Critic Reviews for The Open House
Audience Reviews for The Open House
Nothing original about this movie. The scares are cheap and un-original. The plot is bare and predictable. The sparse opportunities for plot and character development are bypassed for what seems cost cutting and a rush to end the production. Cinematography and credible performances by Piercey Dalton and Patricia Bethune are only plusses .
Aldo Gandia
Super Reviewer
I'm a big supporter for the Netflix original film content but this is very poor choice by them. I have been championing the way they are bringing back indie films and medium budgeted films that Hollywood is abandoning, but this is a prime example on why Hollywood have moved away from these films. The payoff is just stupid and the build up is interesting for a little while but the character choices don't add up. Plot holes shine through and a character puts a phone on the charger only to discover it missing moments later, he doesn't even think anything sinister. The filmmaking team made a truly bad film here and I'm not one to hate very often but this didn't deserve the Netflix banner. Not sure why this film was made but if it hit the box office the film would've failed miserably. 28-01-2018.
Brendan Nicholls
Super Reviewer
We're in the risky month of January once again and when it comes to watching new releases in entertainment, it's usually a coin toss as to whether or not a movie will actually be good. Ever since Netflix began to release original films, I've found myself holding out hope that fantastic independent films will slowly begin to make their way onto streaming services, instead of failing at the box office. Well, if one of Netflix's most recent films in The Open House is any indication, then we're still a very long way from something like that ever happening. Not only is this one of the most non-scary horror films that I've seen in recent memory, but it's also one of the worst films in general that I've seen in recent memory. People talk about how bad a movie is, but sometimes it just has to be seen to be believed. Now streaming, here's why I think you should check this movie out just to see how bad it truly is. Starring Dylan Minnette and Piercey Dalton star in The Open House, a film that (after a tragic event) follows them as they work on selling their home. Shacking up in a family member's house up in the mountains while they set up open houses, creepy things begin to happen to them. What's disturbing them? Well, without giving anything away, literally nothing is ever explained to you throughout the movie. It's almost a joke that this film was even made because not a single portion of this movie is terrifying and not a single plot point is interesting enough to hold your attention for two seconds. Look, I've said this before, but it's really not necessary to make a horror movie to scare the hell out of someone because it's all about atmosphere and visuals. When the It hit theatres last year, it wasn't the kind of film that needed to throw scares in your face, because it focussed more on its characters and made you just care about watching these kids hang out and hope they all make it out of the film alive. So, when a movie like The Open House manages to simultaneously provide incredibly weak characters, laughably cheap set pieces, jump scares that you can see coming over ten minutes before they happen (and that's not even an exaggeration), and a conclusion that's pretty much a slap in the face to every viewer for even watching the movie, then I have nothing good to say about it. From the small films that Dylan Minnette has appeared in, to his larger role in last year's new series 13 Reasons Why, I've always enjoyed watching his performances, but even he was incredibly one-note here. Every time something would happen in their house that was supposed to trigger chills from the audience, it felt forced and quite honestly, every single set piece was a re-creation of another horror film. Yes, it's practically impossible to not draw inspiration from other movies these days, but The Open House just felt uninspired from start to finish. In the end, I found myself chuckling if a character died, laughing hysterically at each jump scare, rolling my eyes when a new plot point arises that you already know the outcome to, or just plain being bored at the bland imagery. The funny thing is that this movie has an ending that I didn't exactly see coming, but the way it ends actually makes the movie worse than it already is. It's still very early in the year, but I'll be shocked if this doesn't stay my most hated movie of this year. The Open House is truly an awful film and unless you get a kick out of terrible horror films, then I would advise that you steer clear of this one.
The Open House Quotes
There are no approved quotes yet for this movie.