The Oregonian
(2012)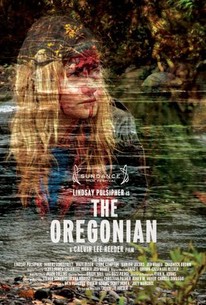 Movie Info
Leaving behind a desultory and potentially abusive existence, a beautiful farm girl, known only as The Oregonian (Lindsay Pulsipher), rushes headlong into an unknown future. -- (C) Cinemad
Critic Reviews for The Oregonian
Audience Reviews for The Oregonian
A woman has an accident driving in the deserted woods and finds herself trapped in a world where nothing makes sense. The director, Calvin Reeder, accurately describes it as a "surrealist/experimental movie with splashes of horror"; about a fourth of the audience walked out of the screening I saw, more likely from boredom than shock. If you're going to make a film with essentially no plot, every individual scene needs to be a knockout, and that's just not the case with THE OREGONIAN. But it gets points for remaining defiantly weird, and for a couple of very nice funny/creepy touches: a man whose pee turns all the colors of the rainbow, and a man-sized green muppet character.
The Oregonian Quotes
There are no approved quotes yet for this movie.