The Oregonian
(2012)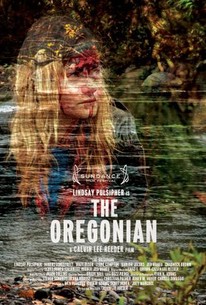 Movie Info
Leaving behind a desultory and potentially abusive existence, a beautiful farm girl, known only as The Oregonian (Lindsay Pulsipher), rushes headlong into an unknown future. -- (C) Cinemad
Critic Reviews for The Oregonian
Audience Reviews for The Oregonian
Well shot, well edited, well acted, great sound design, very cool and stylish end credits. Way too much weird just to be weird and obtuse just to be obtuse and drooling of various substances out of mouths. There are people who will like this a lot more than me (and I didn't hate it, just found it to be, ultimately, disappointing).
Michael Harbour
A woman has an accident driving in the deserted woods and finds herself trapped in a world where nothing makes sense. The director, Calvin Reeder, accurately describes it as a "surrealist/experimental movie with splashes of horror"; about a fourth of the audience walked out of the screening I saw, more likely from boredom than shock. If you're going to make a film with essentially no plot, every individual scene needs to be a knockout, and that's just not the case with THE OREGONIAN. But it gets points for remaining defiantly weird, and for a couple of very nice funny/creepy touches: a man whose pee turns all the colors of the rainbow, and a man-sized green muppet character.
½
The Oregonian... Where to start? I guess the best way to begin this is to say that about half way through the movie, I realized I hated it. Although I stayed throughout the entire movie (unlike a far too many of the other audience members), I was pissed that I had spent $15 on that and not one of the other 2 movies that were playing at the same time. I guess you can say that the reason I haven't verbally castrated this movie is because 20 minutes after leaving the theater, I realized I was scared. The Oregonian was the first movie since 2008 that kept me scared after I left the theater. It was about 10 minutes after this previous realization that I had an epiphany; I loved The Oregonian. It scared me, kept me on edge, and best of all, my reason for hating it? I went in to the movie thinking it was going to be something else, and I didn't really see what the movie was about until the group I was with discussed it later. A brief plot description: A girl is seen leaving a man who could be her husband, and then wakes up after a car accident. Cue weird shit. As she travels down the road, she comes across the most interesting of characters and is put through a mountain of trials. For a full plot synopsis and my interpretation of the movie, check out my blog. http://filmwithchainsaws.blogspot.com/
Brien Slate
The Oregonian Quotes
There are no approved quotes yet for this movie.
Discussion Forum
Discuss The Oregonian on our Movie forum!