The Pack (La Meute)
(2012)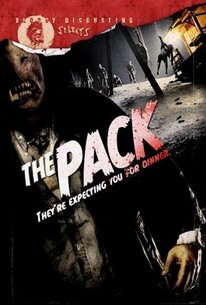 AUDIENCE SCORE
Critic Consensus: No consensus yet.
The Pack (La Meute) Photos
Movie Info
A strong woman finds herself up against a master of the undead in this lively blend of horror and comedy. Charlotte (Emillie Dequenne) is a hard-nosed woman with a strong independent streak and little patience for people who rub her the wrong way. Charlotte is in the midst of a road trip when she picks up a hitch hiker named Max (Benjamin Biolay) who seems just as flinty as she is. After a while, Charlotte and Max take a break from driving and pull into a diner and gas station run by La Spack (Yolande Moreau), a gal who makes Charlotte seem like June Cleaver. After a while, Charlotte can't find Max and ends up leaving without him, but her conscience and curiosity get the better of her and she comes back that evening. Charlotte soon discovers La Spack isn't running an ordinary greasy spoon -- she abducts her customers and uses their flesh and blood to feed a private army of cannibalistic ghouls. La Meute (aka The Pack) was the first feature film from director Franck Richard.
Critic Reviews for The Pack (La Meute)
All Critics (3) | Fresh (2) | Rotten (1)
It's no Martyrs or Inside, but that's a pretty unfair standard when you think about it.
Franck Richard spins his damsel-in-distress slasher film into a nihilistic monster movie very effectively.
although it mines a rich seam of genre's raw materials, The Pack ends up being all tense build-up with little convincing follow-through.
September 23, 2010
Audience Reviews for The Pack (La Meute)
The DVD artwork promised much, but to be honest I was left a little underwhelmed by this one. The whole set-up is fairly routine and something that's been done a few times recently in the new wave of French shockers featuring backwoods families. The real draw of the film would be the 'Pack' itself as advertised but even they left me a bit disappointed. They show up fairly late-on in the film and they do very little, despite providing the best moments of the movie. Not a terrible film by any means, the characters are an entertaining crazy bunch and there's some nice gory moments to be enjoyed. Just don't get your hopes up too much about this one though.
There's nothing really new here but it still manages to be entertaining, funny and with some well thought surprises and sequences. And no, not the ending one, which was just plain stupid and unjustifiable.
Francisco Godinho
Super Reviewer
½
"The Pack" is a French movie with a irregular story. It is very entertaining and engaging in the first half, filled with intrigue and a second segment very strange, murky, illogical and even boring.
The Pack (La Meute) Quotes
There are no approved quotes yet for this movie.