The Polka King
(2017)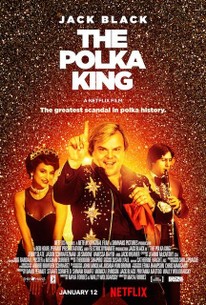 Movie Info
In The Polka King, Jack Black stars as Jan Lewan, a Polish immigrant who became the "King of Pennsylvania Polka." A believer in the American Dream, Jan worked hard and dreamed bigger, but with big dreams come big mistakes. Based on a true story, the film, co-written and directed by Maya Forbes and Wally Wolodarsky, mixes comedy and tragedy showing the world's only known Polka Ponzi scheme. The Polka King co-stars Jenny Slate, Jason Schwartzman, Jacki Weaver, J.B. Smoove and Willie Garson.
News & Interviews for The Polka King
Critic Reviews for The Polka King
Audience Reviews for The Polka King
The miracle of the casting director enlivens this slight but based-on-a-true-story tale of a immigrant entertainer who embraced America by operating a Ponzi scheme as a lucrative sideline. Jack Black surprises me for the second time this year and Jacki Weaver (an Aussie!) does a bang-up job as a New Jersey mother-in-law who doubts her daughter's choice in love. Slate and Schwartzman ably hold down the rest. Better than you might've expected ... and polka, no less.
Kevin M. Williams
Super Reviewer
Jacki Weaver is every person I've ever strongly disliked in this world, but also she's mostly right about everything going on in this movie. Too much Year One, not enough Bernie.
Philip Price
Super Reviewer
I've always enjoyed watching films with Jack Black as the leading man, but his career has been pretty hit or miss in terms of good and bad content. Recently with Jumanji: Welcome to the Jungle, he's been having a solid year, but I've been waiting for his classic performances to return. Not since films like High Fidelity, Shallow Hal, or School of Rock have I truly found myself loving him. That being said, I loved how he was committed to his role in the recent rendition of Jumanji and The Polka King only continues his recent devotion to acting. This is a film that completely came under the radar for me, but it's a pretty solid surprise. Now streaming on Netflix everywhere, here's why I think you should check out The Polka King. Exploring the craziness that ensued when one man wanted to create a so-called "Empire," The Polka King follows Jan Lewan as he does his best to find investors for his company, in order to tour the world, making tons of money. The only issues are that his touring hardly have him breaking even, while his investors continue to invest money, having him owing millions of dollars and spiraling out of control. More than anything, this was simply a fascinating watch, especially when having the knowledge that it's a true story. Polka itself isn't very interesting to me in terms of art mediums, but there was something about this film that hooked me from beginning to end. From humor to drama, The Polka King has it all. When Lewan is down on his luck, he enjoys finding the best in every situation and that makes for quite a few hilarious scenarios and I found myself audibly laughing on multiple occasions here. Jack Black, as I mentioned already, is a fantastic talent in term of comedy and he doesn't disappoint here. Jenny Slate as Lewan's wife is terrific as well and they share a strange chemistry that I was sort of surprised by. On top of these two great performances, I found myself loving Jason Schwartzman's contribution to this film as well, and I haven't really been blown away by any of his work in the past, so that's saying something from me. I may be slightly biased when giving my recommendation here because I'm the type of person who loves the meshing of multiple genres. When Comedies and Dramas are mixed together to make films like off-beat movies like 50/50 or Safety Not Guaranteed (just to name a couple), I feel that it's more relatable. Not everything in the world is dour and depressing and not everything is cheerful, so a nice blend of the two is always what draws me in more. The Polka King does a great job at making you laugh, but you also feel terrible for this guy, who steals everyone's money, but his heart's always in the right place. In the end, this is one of the better films to be released on Netflix in a while and I recommend it to those who're looking for a quick watch. At a breezy 90 minutes, this movie gives you comedy, drama, life lessons, and hope. There's not much more you could ask for from a movie like this. The one downside is that you can sort of predict where the film's going, even if you're unaware of the true story. It's the type of movie that's very solid and worth a watch, but won't ever be up for awards or even remembered for that matter. That's a shame because it's a nice little comedy that I believe deserves some attention.
The Polka King Quotes
There are no approved quotes yet for this movie.
Discussion Forum
Discuss The Polka King on our Movie forum!