The Psycho Legacy
(2010)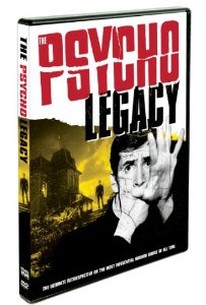 AUDIENCE SCORE
Critic Consensus: No consensus yet.
Movie Info
This documentary examines the ongoing influence Alfred Hitchcock's 1960 classic Psycho has had on not just horror films, but on mainstream filmmaking. The filmmakers interview many of the people involved with both the original film, as well as people who appeared in the sequels.
Critic Reviews for The Psycho Legacy
Audience Reviews for The Psycho Legacy
½
The Psycho Legacy takes a look at the four films in the series though wisely ignores Gus Van Sant's odd shot-for-shot color remake of Hitchcock's original picture. The documentary begins by giving us a primer on the original film, explaining what made it different, why it had such an impact, and how it launched star Anthony Perkins into the mainstream only to see him quickly typecast in a part he'd never be able to escape, though eventually become both appreciative of and thankful for. We move through the first film fairly quickly, which considering the amount of material already available both in print form and on Universal's various video releases over the years, maybe isn't a bad thing. The film, to a certain extent, does assume that you have a basic knowledge of that picture - it is, after all, targeted to horror fans, but even if you don't you'll get a quick crash course here before moving on to the sequels, none of which have ever received the sort of supplemental love the first film has. From there we move through the different sequels that turned the first film into a series and are treated to interviews both new and archival that generally do a pretty good job of telling the story of the later films in the Psycho franchise. Not everyone involved in these films is still around, Hitchcock and Perkins being the two most obvious examples, but Richard Franklin who directed Psycho II has also passed on, but Robert Galluzo has done a pretty good job of rounding up a decent selection of people who worked on these films as well as modern independent filmmakers who were influenced by the movies under discussion. That said, there are few obvious omissions (they couldn't get Meg Tilly to talk about Psycho II?) that keep this from being the definitive statement many had hoped it would be. We're treated to some interesting stories about working with Perkins both as an actor and as a director. Most involved speak quite kindly of him, though we're told a few times that he didn't seem to enjoy working with the aforementioned Ms. Tilly on Psycho II and there are some interesting speculations offered up as to why. Jeff Fahey pops up and offers some recollections from his time on the set of the third film while various writers and crewmembers provide some insight into what they did and how. The filmmakers interviewed don't really offer up all that much, save for Mick Garris who has a personal connection to the series, and their input could have easily been chopped out if it had been replaced with some of the more interesting recollections from those involved that pop up in the deleted scenes. One can probably safely assume they were included as an attempt to demonstrate the series' influence, which carries over well into the modern day, but their input is generally not quite enough to really offer much specific information. That's a minor complaint, however. This may not be as polished or as slick as Never Sleep Again (so comprehensive that it has to be the new standard by which documentaries like this shall be judged!) but it's affectionate, enthusiastic, and interesting enough to work.
David Ladd
Super Reviewer
Somewhat amaturish and way too brief (Psycho is only covered for the first 20 minutes) it's still is a nice love letter to fans of the series and mentions a few stories I had never heard before. Nowhere as comprehensive as His Name Was Jason or Never Sleep Again but overall it's not bad.
A.D. Villarreal
Super Reviewer
The Psycho Legacy Quotes
There are no approved quotes yet for this movie.