The Sisters Brothers
(2018)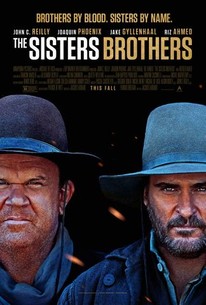 TOMATOMETER
AUDIENCE SCORE
Critic Consensus: The Sisters Brothers rides familiar genre trails in occasionally unexpected ways - a satisfying journey further elevated by its well-matched leading men.
The Sisters Brothers Videos
The Sisters Brothers Photos
Movie Info
From acclaimed director Jacques Audiard (Rust and Bone, A Prophet), and based on the novel by Patrick deWitt, THE SISTERS BROTHERS is a reimagining of the cinematic Western as a dangerous, witty, and emotionally cathartic exploration of what it means to be a man. It is 1851, and Charlie and Eli Sisters (Joaquin Phoenix and John C. Reilly) are both brothers and assassins, boys grown to men in a savage and hostile world. They have blood on their hands: that of criminals, that of innocents...and they know no state of existence other than being gunmen. The older of the two, introspective Eli (Reilly) rides hard with his younger sibling yet dares to dream of a normal life. The younger of the two, hard-drinking Charlie (Phoenix) has taken charge with gusto as lead man on the duo's assignments. Each increasingly questions, and quibbles with, the other's methods. The Sisters brothers find themselves on a journey through the Northwest, bringing them to the mountains of Oregon, a dangerous brothel in the small town of Mayfield, and eventually, the Gold Rush land of California - a journey that will test the deadly family ties that bind. But, can it also be the path to rediscovering what remains of their humanity? THE SISTERS BROTHERS also stars Jake Gyllenhaal as learned scout John Morris and Riz Ahmed as fugitive chemist Hermann Kermit Warm.
News & Interviews for The Sisters Brothers
Critic Reviews for The Sisters Brothers
Audience Reviews for The Sisters Brothers
½
"Have you noticed how long it's been since someone tried to kill us?" "I don't know...three or four days?" "Don't you find that strange?" The Sisters Brothers is both a modern western that pays plenty of homage to the classics of the genre. It isn't what you expect and not always what you hoped it might be, but it consistently does whatever the hell it wants and one can't help but to appreciate it for exactly that. In other words, The Sisters Brothers is wholly its own thing and it's very up front about this fact with an opening scene that is both startling, starkly aloof, and perplexing in the most intriguing of ways. While it feels natural to be tepid in the opening twenty or so minutes as exposition is avoided in favor of the audience putting the pieces together themselves it is once director Jacques Audiard (Rust and Bone) begins to parallel the arcs of our titular characters as played by John C. Reilly and Joaquin Phoenix with that of Jake Gyllenhaal's John Morris and Riz Ahmed's Hermann Kermit Warm that things really get rolling. It's always nice to see a movie when, in general, you see so many movies and think you know where it's likely going only to have it continually go in a different, but completely logical-and natural-feeling-direction. Phoenix and Gyllenhaal give two very distinct, but vastly different performances for two characters that are more similar than they might like to admit even if they come to recognize as much. Gyllenhaal's accent is especially noteworthy. Ahmed's interpretation of Warm is a matter of perspective and he plays this advantage to the hilt given the ultimate course the actions take. It is Reilly who steals the show though, serving as a throughline of steadfastness in doing something despite the difficulties his brother provides and the endless delays he takes the blame for all in order to achieve a success he doesn't seem to necessarily agree would define the word "success". It's a wonderful, well-rounded performance that lends the final scene of the film a sense of near-perfection; capturing a small truth of life we don't often recognize or discuss and painting a two-hour portrait with it. Also, not exactly Bone Tomahawk brutal, but still BRU-TAL with a capital B.
Philip Price
Super Reviewer
½
The film takes a while to find a focus and tell us what it wants to do with its seemingly flat characters, but then becomes a more interesting story about civilization versus barbarity in a world filled with dirt, diseases and death, even though the ending is somehow underwhelming.
Carlos Magalhães
Super Reviewer
Much like the horror genre for me, western films haven't been able to win me over as well as others. That being said, I was looking forward to this one, due to the energetic trailers and very talented cast all around. Sadly, this film only lived up to one thing, which was the cast. I don't expect much from westerns to be honest, because aside from Butch Cassidy and the Sundance Kid, The Good, the Bad, and the Ugly, or even the remake of 3:10 to Yuma, I haven't loved too many others. I still found myself disappointed in this one, however, due to the story being told and the crew behind the movie being so incredibly gifted. Here's why I'd recommend this movie if you're a fan of any of these performers, but why it's really not worth seeing as a whole. Based on a true story of two brothers who are on the run after multiple felonies in the 1800s, The Sisters Brothers dives into the dramatic aspect of their characters and pretty much becomes a road trip drama with a Western setting. That itself would interest me if someone were to sell the movie before viewing it, but the drama aspect is far too heavy for this sort of film. A duo of gold prospectors in Jake Gyllenhaal and Riz Ahmed are on the lookout, while also being in pursuit by these brothers, who are played by Joaquin Phoenix and John C. Reilly, respectively. The premise of this film is very interesting and different for this genre, but it truly goes nowhere that we haven't already seen westerns go a million times over. If you go into this film hoping for great performances and nothing else, then you might end up loving this movie, because these four performers in Reilly, Gyllenhaal, Ahmed, and Phoenix are stellar from start to finish. I felt riveted each and every time any of them were sharing the screen together, but that's where the greatness ends for this film. It relies too heavily on this cast to carry the very slow pace. The film begins with an action sequence and ends with a decent one as well, but the rest of the movie is a very slow burn that does nothing all that interesting to keep you engaged. Sure, you will learn about the backstories and life goals of these characters, but it's nothing I'll ever find myself wishing to revisit. With all of that said, this is a well-directed film by Jacques Audiard, who has been previously known for his award-winning foreign films in Rust and Bone, Dheepan, and many more. You can tell that this is a director that cares about his character on-screen and he definitely focussed the majority this filmmaking process to get that aspect just right because it really does show. These characters are fantastic. I just wish the movie itself was injected with a little more energy to hold my interested throughout the full 121 minutes. Overall, The Sisters Brothers is a competent film as a whole, with great direction and superb performances, but the rest of the movie surrounding those aspects just left me underwhelmed. I'm not saying the movie itself needed a gunfight every five minutes, but the calm score, subtle performances, long sequences of sitting around a fire or riding a horse, and even the comedic aspects that were played as light humour to deviate from the tense moments, all felt dull. I enjoyed watching this movie, but it feels far too long, due to the slow pacing. I personally feel that this film is a big example of wasted potential. I can't quite give this movie a glowing recommendation, but there are enough positive aspects to warrant a positive grade.
The Sisters Brothers Quotes
There are no approved quotes yet for this movie.