The Spectator (La Spettatrice)
(2004)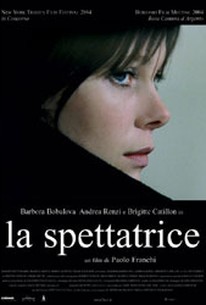 AUDIENCE SCORE
Critic Consensus: No consensus yet.
Movie Info
Casual voyeurism grows into an obsession in this low-key thriller from Italy. Valeria (Barbora Bobulova) works as an interpreter in Turin and shares an apartment with a friend, though she seems wary of close relationships with others. One of Valeria's windows looks into the flat of Massimo (Andrea Renzi), and she finds herself watching him as he goes about his daily business. Her curiosity begins to evolve into something deeper when Massimo knocks on her door, hoping she can help him with his dog, who is ill. Not long afterward, Massimo moves to Rome, and Valeria follows him, where she discovers he has a girlfriend, Flavia (Brigitte Catillon). As Valeria pursues Massimo from a distance, she also strikes up a friendship with Flavia, and as Massimo begins to develop a deeper interest in Valeria, it leads to a strange emotional triangle between the three. La Spettatrice received its North American premiere at the 2004 Tribeca Film Festival. ~ Mark Deming, Rovi
Critic Reviews for The Spectator (La Spettatrice)
There are no critic reviews yet for The Spectator (La Spettatrice). Keep checking Rotten Tomatoes for updates!
Audience Reviews for The Spectator (La Spettatrice)
[b][color=brown][size=5]LA SPETTATRICE (THE SPECTATOR) (2004)[/size][/color] [/b] [b][b] [img]http://images.rottentomatoes.com/images/movie/coverv/23/730823.jpg[/img] [color=violet]Film Paolo Franchi-ja èija se radnja dešava u Torinu, da bi se kasnije prebacila u Rim, nas drži zalepljene za mali ekran sve vreme tokom trajanje filma. Zaplet i kulminacija su savršeni, ali je zato rasplet bio veoma mlak i to bi bila jedina zamerka ovom filmu... što kopira život! Glavne uloge su podeljene glumcima koji su ih odradili vrhunski, sivilo i napetost su èesto razbijani veoma suptilnim režiserskim trikovima, tako da je pravo uživanje bilo otkrivati ih dok ste sasvim "uronjeni" u dešavanje prièe u kojoj mlada devojka (inaèe prevodilac) prati u drugi grad doktora, koji joj je bio komšija, i tamo uspeva da mu se približi i usput rasturi vezu koju je imao... isprièah vam ceo film, ali nema veze, pogledajte ga u dugim zimskim noæima kada imate pogodno društvo... Barboru Bobulovu (Valeria) i Brigitte Catillon (Flavia) bih gledao 24 sata i ne bi mi dosadile. Vrhunska gluma (nije za èuðenje da je ove godine Barbora u glavnoj ulozi u filmu Coco Chanel)! Uostalom film je dobio srebrnu Rosa Camuna, na 22 Filmskom sretanju u Bergamu 2004 , nagradu za najbolju glumicu (Barbara Bobulova), CICAE , na 21 Annecy Italijanskom Filmskom Festival, (FR) 2004 i nagradu žirija Grand Prix Amilcar, na 27 Villerupt Italijanskom Filmskom Festivalu, (FR), 2004, a i mnogobrojne nagrade na inostranim festivalima (Edinburgh), pa ako ne verujete mojoj oceni verujte žirijima... A moja je ocena 6/10.[/color] [img]http://images.digitalspy.co.uk/film/library/160x120_thespectator_generic01.jpg[/img] [/b][/b]
A young woman, on an impulse, moves to Rome to be near the man who recently lived across the way from her. She finds he is involved with an older woman and insinuates herself into the woman's life, making herself indispensible. However, when the object of her obsession begins to notice her, she reacts in an unexpected way, leaving one to question her mental stability. A quiet, introspective piece. Voyuerism and deception get your attention, and a distinct lack of courage on the part of the young woman make this a little puzzling. But, that said, there was enough to keep this viewer interested. One wonders at the end what shards of her life are left for her to reassemble and whether she will ever find whatever it is she is looking for.
Mark Abell
Super Reviewer
The Spectator (La Spettatrice) Quotes
There are no approved quotes yet for this movie.