The Strange Case of Senor Computer
(2001)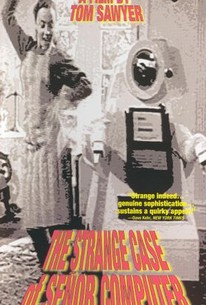 AUDIENCE SCORE
Critic Consensus: No consensus yet.
Movie Info
This independent comedy pokes fun at low-budget sci-fi films of the 1950s and 1960's as well as the pop psychology and social mores of the 1990's as Charles O'Toole (Rick Ziegler), a gifted scientist, invents a new high-tech robot with an artificial intelligence system dwarfing the brainpower of any human. Charles originally created the robot to aid him in experiments that, if successful, would extend human life indefinitely, but lately Charles is so preoccupied with the sad state of his social life that he all but forgets his new mechanical friend as he tries to figure out why he keeps striking out with the ladies. However, the robot has been killing time by watching television, chatting with Charles' housekeeper Carlotta (Gladys Hans), and striking up a telephone romance with a college radio DJ, and the gizmo, who has picked up the nickname IKE, decides he'd rather help Charles find a girlfriend than devise a way to cheat death. The Strange Case of Senor Computer was screened in 2001 at the Slamdance Film Festival and the San Francisco Independent Film Festival.
Cast
Critic Reviews for The Strange Case of Senor Computer
Audience Reviews
There are no featured reviews for The Strange Case of Senor Computer at this time.
The Strange Case of Senor Computer Quotes
There are no approved quotes yet for this movie.