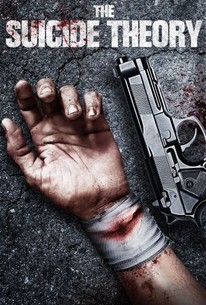 The Suicide Theory
2014, Drama, 1h 38m
19 Reviews
250+ Ratings
Rate And Review
The Suicide Theory Photos
Movie Info
A suicidal man (Leon Cain) hires a demented killer (Steve Mouzakis) to help him end it all, but he miraculously continues to survive each attempt on his life.
News & Interviews for The Suicide Theory
Audience Reviews for The Suicide Theory
This movie was definitely not what I was expecting when I read the plot on Netflix. And I definitely do mean that in the most complimentary way possible, because this was what I would call a really pleasant surprise. Something of a sleeper, because this film sort of sneaked by without much in the way of publicity or praise. Part of the reason it works so well is that it takes the concept, that itself isn't the most inventive, and instead make it about the characters and not about the concept itself. That's what I was expecting from this movie, I was expecting it to play with the concept in trying to find a variety of different ways for Steven, a hitman, to kill Percival, who's been unable to die, no matter how hard he tries. While there's certain parts where they play with that idea, it's about the surprising friendship that blossoms between Vincent and Steven. Steven is pretty much wracked with guilt from the death of his wife and his unborn child from a hit-and-run 3 years before the events of the movie and Percival is haunted by a combination of grief, from the death of his boyfriend, and guilt over some skeletons in his closet that have driven him to attempt suicide over and over again with it not working. With the film's themes about fate and everything happening for a reason then you can pretty much predict where the film is going to end up. While the film certainly surprises in not playing out how I expected it to go, before watching it. When you do start to watch it, everything becomes clear and you know where the film is pretty much heading. It's predictable in that way, but I think the way the film gets around to that ending, with good storytelling and great chemistry between the leads, is what elevates the film past is predictability. I like how Percival and Steven's friendship develops and how they help each other confront their own fears and guilt head-on instead of avoiding them or numbing them down with alcohol. I do think that the film interweaves the characters' complexities into their own budding friendship expertly and how it does seem that fate has brought these two together for a reason. I won't spoil what that reason is, but it's definitely rewarding to watch. Particularly seeing the highs and lows of both characters, particularly Steven, who finds himself, after saving a cop, at a point where he's just ready to move on with his life and trying to be happy before he's just brought back down again by Percival's revelation. The film, at its core, is really about redemption and retribution and how, in their case, both go hand in hand. The ending itself is particularly bittersweet and there's a definite cyclical nature of events that Steven now finds himself in with, literally, no way out, as the only person who could've given him that redemption has died. It's a real good movie honestly and one that certainly overcomes its low-budget with smart storytelling and really strong acting. It's not the greatest film in the world, but I think it's an easy recommendation and one of the more pleasant surprises I've had this year.
See Details