The Tale of Zatoichi Continues (Zoku Zatôichi monogatari)
(1962)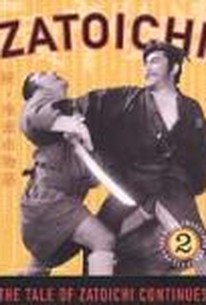 Movie Info
Zatôichi discovers a secret that makes him a wanted man, and must face his old foe, the infamous one-armed samurai.
Critic Reviews for The Tale of Zatoichi Continues (Zoku Zatôichi monogatari)
Audience Reviews for The Tale of Zatoichi Continues (Zoku Zatôichi monogatari)
A denser and more action packed sequel to the previous and first Zatoichi film, The Tale of Zatoichi Continues is a solid and fast moving action film that picks up exactly one year after the events of the first film. While different than the slower and more character developing first Zatoichi film, this film was just as good as the first just in a different way. At a brisk running time of 72 minutes the film doesn't waste time and gets down to business as we already know some of Zatoichi's background and have the first film's narrative and storyline under our belts.The film accomplishes it's goals and quickly ends the second the film is concluded with the death of the main antagonist. Another great entry in the Zatoichi franchise.
Chris Browning
Super Reviewer
This is the chronicling of Zatoichi's trusting nature as his character defect in that he misplaces it idly to have his heart torn out by a girl and be fucked over by the people who hire him just because they think he's weak because he is blind. Zatoichi has a huge a heart and is an incredible swordsman which is really unique among samurai films which often showcase the strong silent type or the "don't fuck with that guy with the insanely intense eyes and voice deeper than Barry White over there" type of anti-hero. I like him, he's sweet and really simple yet that tends to get him in a lot of trouble. Luckily his cane also happens to be a sword of which he is also a master of along with being able to give a legendary massage. Good movie, sad he is always fucked with for no amazing reason, if only his pursuers got to know him before trying to kill him -shakes head- oh well.
Greg Afilmlovingweirdofromcali
Super Reviewer
A very, very solid sequel to the first masterpiece. The film picks up exactly one year after the last film. Zatoichi has returned to the village where he killed Hirate Miki, in order to pay his respects. Soon he is chased by assassins that believe he will spill the beans about their lord's secret. This film really highlights the pointlessness of violence, as Zatoichi would never have blabbed and they didn't even try and talk to him first. Meanwhile two criminals, one of whom may have a connection to Zatoichi, are also in the vicinity. The fights are the highlight of the film here but there's still a lot of story to go around. We see where characters from the last film are now and also have a lot of Zatoichi's past brought to the forefront, as well as setting up the next adventure. All the characterisation of Zatoichi means that later films should be able to build upon and use this in very interesting ways.
Luke Baldock
Super Reviewer
The Tale of Zatoichi Continues (Zoku Zatôichi monogatari) Quotes
There are no approved quotes yet for this movie.