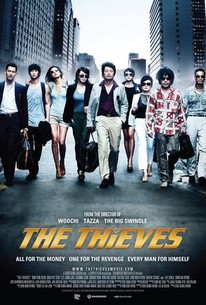 The Thieves
2012, Action/Crime, 2h 16m
13 Reviews
1,000+ Ratings
Where to watch
Rent/buy
Rent/buy
Rent/buy
Rate And Review
Movie Info
A cat burglar (Lee Jung-jae) and his gang are hired by a devious former partner (Kim Yoon-seok) to steal a $20 million diamond from a Chinese gangster's mistress.
Audience Reviews for The Thieves
A heist film America wishes it could make. Funny, lots of action and some very human/touching moments with an ending that keeps you guessing. A great cast ensemble cast helps too!

Starting off slow, but eventually rising to a smart, sexy, and thrilling status for the majority, "The Thieves" is essentially Korea's "Ocean's Eleven" but with an added dose of great Asian action, particularly in it's climax. Make it past the first 30 minutes and you will start to really enjoy the film's fun and dynamic characters, it's story full of twists and turns, and it's overall all fun factor which is never lost in translation.

I'm a person who really doesn't enjoy caper films. I just find the idea horribly repetitive and I don't enjoy the fact that the majority of the films rely on the planning of the caper itself. This makes sense to be fair, but the character usually take a backseat to the planning. I usually find the planning AND the characters generic and dull. That's why I'm so surprised that I enjoyed the movie as much as I did. The planning is actually really interesting since the characters themselves aren't on the same page, they're each out looking for number one and that makes the eventual heist more interesting since you don't know who's gonna back-stab who. And I liked that. It also helps to know that, at least, there's some ACTUAL character development here and the characters aren't just BODIES that have no discernible personalities. The good thing is that the caper itself isn't the end game. It's what happens afterwards after the Koreans are betrayed by somebody, who I won't spoil. The movie only gets better after the caper itself happens. There's a lot of betrayals and twists but the movie never becomes a parody of itself. It's not like the twists are mind-blowing that you won't see coming, but they make sense in the context of the film, so thumbs up for that. The movie isn't complex, as it relates to characters or story, but it does have a lot it want to get out there and it does so relatively easy. It's not a film that is hard to follow at all despite a lot going on. The film is also, for its genre, surprisingly long but it's a movie that just flies by, it's really an entertaining and stylish flick. The action sequences, there aren't that many maybe 2 at the most, are particularly exciting. And the cast was also excellent. But, and most importantly, the film had NO MELODRAMA. Of course this isn't strictly a comedy or a romance, though it has aspects of both, but it's still good to see a movie not forcing in some unnecessar dramatic aspects. If I had done a list of films that pleasantly surprised me, this film would place highly on that list. It's certainly not even close to being a great movie, but I never expected to like this movie as much as I did. It's just a really fun caper flick, so if you have Netflix and want to watch something entertaining, then this is highly recommended.

The Thieves follows hardened robber Macao Park who wants to steal a $20 million diamond from a casino in Macau. In order to pull off the perfect heist, he enlists the services of Korean and Chinese thieves. What looks to be a smooth heist suddenly shatters into a botched job as each thief begins to reveal their true motives and lots of betrayals and grudges surface before any thief can get to the diamond. The Thieves is a mixture between the Oceans and Mission Impossible series. You have a star studded cast like in Oceans with their own dynamic and set pieces that have a similar design to Mission Impossible. With multiple characters and subplots were expected to follow it can be easy to lose track of what's happening. With good pacing the plot never becomes too overwhelming to take in even when things become hectic in the final act. It does however go a bit too far with the many twists and betrayals that become abuse in the second half of the film. It breaks up the momentum whenever characters explain themselves for their certain actions. Some subplots end without being resolved, but the development given to the crew never makes them feel like an afterthought to the story. There's no shaky cam, fancy editing, or heavy uses of CG when it comes to it action set pieces. The practical action sequences are few in numbers, but one elaborate shootout and good stunt work on the side of a high-rise building will make up for it. In a film with this big of a cast it's hard imagine anyone standing out, but actor Yun-soek Kim does just that. The only cast member I knew going into this was Simon Yam, but Yun-soek Kim took my attention given how he has more screen time and a more interesting role. The Thieves is a great heist film that make its two plus hour running time fly by mostly without hitch.
See Details