The Traveler
(2010)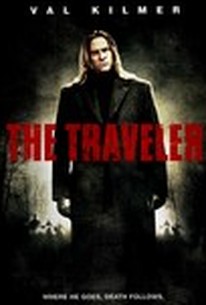 Movie Info
A mysterious drifter blows into a small own on Christmas Eve, and sets off a string of gruesome events that threaten the lives of six police officers in this thriller starring Val Kilmer. As the townspeople settle in for the holiday and darkness washes over the town, a man (Kilmer) enters the local police station and confesses to committing multiple murders. Now, with each new detail the stranger reveals, it becomes increasingly clear that the real nightmare is only beginning.
Rating:
R
Genre:
,
Directed By:
Written By:
In Theaters:
On DVD:
Runtime:
Studio:
Paramount Pictures
Critic Reviews for The Traveler
Audience Reviews for The Traveler
½
Visually captivating but the story derails quickly. Good blood and gore fest thought. This is probably five fat Val Kilmers out of ten.
Patrick Snell
½
After seeing this film, I'm pretty certain we have a new front runner for the "Worst Movie I've Seen All Year" contest. I should have known a B-Horror movie, starring Val Kilmer, wouldn't be any good, but once again I was fooled by one of those clever bastards who write the descriptions on the back of the box. One a snowy Christmas Eve, a man walks into a Police station, to confess to crimes he hasn't yet committed. It sounded like a cool concept, when in actuality, it was nothing more than a waste of time. Where to begin? First off, this film is so painfully predictable, my dog knew what was coming next. The Traveler must have had no budget what-so-ever, because not only was the supporting cast a complete joke, but so was everything else! From the decrepit, falling apart, Police station to the twenty year old squad cars, and of course the miserable special effects, this film was pure shit from beginning to end. As for Val Kilmer, he was about as convincing as Tyler Perry is as the new Alex Cross. Seldom have a seen a more lazy and sloppy performance, with such a complete lack of emotion and muffled lines. I really have to wonder if the other actors could smell the manure coming off of him on the set. This film is one that never should have even been made, run away from it and never look back!
Todd Smith
Super Reviewer
Serving primarily as proof that ideas are senselessly stolen for easy profit, here is Eastwood's High Plains Drifter raped and denuded w/o rhyme or reason, and to poor effect. A small twist is added at the end for ... LOL! ... originality, but its unsatisfactory as well as too late. Fail.
Kevin M. Williams
Super Reviewer
The Traveler Quotes
There are no approved quotes yet for this movie.