The Treasure Hunter
(2011)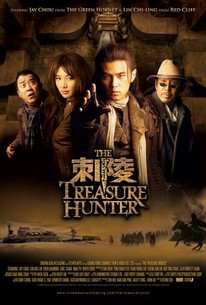 AUDIENCE SCORE
Critic Consensus: No consensus yet.
The Treasure Hunter Photos
Movie Info
In the boundless desert, countless prosperous dynasties have begun and evolved innumerable cultural legends. For centuries countless dynasties raised up and fell off, the only thing hasn't changed is this desert. Numerous treasures sleep silently beneath this desert. However, for the group of mysterious guardians, there's none can walk in and open the door to treasures. The guardians are capable of everything and ward the desert for generations to defend the fortune that belongs to none. Their leader is Desert Eagle, born with extraordinary oriental martial art. In this desert that power says everything, Desert Eagle is the victor and his rival had to leave. No one remember the name of the failure. Nevertheless, a fierce rivalry is happening to the quiet desert for an ancient city treasure map recording the treasures that has been missing for thousand years. The map has caused people to scramble for it... -- (C) Official Site
Critic Reviews for The Treasure Hunter
There are no critic reviews yet for The Treasure Hunter. Keep checking Rotten Tomatoes for updates!
Audience Reviews for The Treasure Hunter
It's not a bad Taiwan rip-off of The Mummy and Indiana Jones film. I was still entertained by cheesy fight scenes and action-packed story. Now, the story is nothing much to mention and time of the story is weird. First, they are in the dessert and another scene shows them in a modern city. Unless they are jumpers, it is impossible but in a story. The action (some are a bit sloppy) is not great by any means but it is entertaining. The acting is not that good. Jay Chou, I don't even know how he got into the movie with his one and only expression. Chiling Lin, the female main character, is a disappointment.
Dean McKenna
Super Reviewer
½
The Treasure Hunter, an action adventure from Yen-ping Chu, slips down a sand dune and isn't able make it back up.
The plot is a bit of a mess. The title is The Treasure Hunter, but for most the part, this picture doesn't feel like going on a treasure hunt because plot holes and subplots get in the way of what should be an entertaining movie. Some of the early scenes take place in the city and this is a breath for fresh air before things move off into the sandy desert.
At least this film has got action. The wire-fu martial arts isn't bad, but sensational it is not; yet, it is good enough to watch.
Characters come and go with a snap of a finger and the acting doesn't deserve a whole lot of praise. The chemistry between Jay Chou and Chiling Lin is absent. In fact, Chiling Lin, as well as Eric Tsang, are quite annoying. Jay Chou himself is just another face for the ladies to look at. Miao Pu is enjoyable, although her character wanders away with one of the side stories.
There isn't much else to say about this film. If intending to view, take caution.
The Treasure Hunter Quotes
There are no approved quotes yet for this movie.