The Tribe (La tribu)
(2018)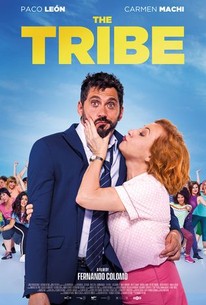 Movie Info
Virginia--who works as a cleaning lady but whose true calling is "street dance"--reunites with the son she gave up for adoption: Fidel, an executive who has lost it all, even his memory. Together with "The Mommies", the outlandish dance group Virginia's classmates have formed, mother and son will discover that they may come from very different worlds, but the same rhythm runs in their veins.
Critic Reviews for The Tribe (La tribu)
Audience Reviews for The Tribe (La tribu)
It should be obvious to those who really know me, but I'm not exactly much of a dancer. To be fair, I've never really tried to dance. I don't feel like slow dancing at parties counts, as that isn't really dancing per se. But I don't have to dance to know that I will never be good at it, no matter how hard I try. That might be a defeatist attitude and I'm not exactly denying it, but I know that I have two left feet and while there's some stuff that you can grow to learn, I feel like, for dancing, you have to be born with an innate ability and rhythm, none of which I have. With that said, I have never been a big dance movie guy. Not saying that they can't be good, but the whole focus of it can't be the dancing or a competition. The dancing should be an important part, yes, but it should be secondary to the interactions between the characters and whatever story the film wants to put forward. That's why I've never been into movies like Step Up, Save the Last Dance, Honey, etc, etc, etc,. These movies put way too much focus on making sure the dances themselves are expertly choreographed that they forget that, at the core, if you don't care about the characters, those fancy dances mean nothing. Perhaps I'm being too overly critical, but that's just how I see it. And I'm not saying that these characters have to be as deep and complex as something Terrence Malick would do, but just make them compelling enough. Make the movie about characters' journey that is complemented by dancing and not dancing complemented by unimportant and dull characters. And I think that this movie, quite wisely, gets that. I'm not saying that this is the second coming or that it's gonna change the world in any sort of meaningful way, because it isn't and it won't. But, once again, it focuses more on the characters first and the dancing, through somewhat natural storyline progression, complements Fidel's journey. The set-up is as follows, Fidel works as the head of HR at this company and he's just laid off 300 employees. The people are pissed naturally. He's fucking this woman in his office when his penis gets stuck inside her, like you see when perverts try to fuck cats. The paramedics are called and he, and the woman he was fucking, are stretchered out while still stuck together. Employees film this, it goes viral and Fidel gets fired and he goes into hiding. A year later he contacts his biological mother, as he was given up, and meets her. He's suicidal as people still recognize him from the video, so he jumps in front of a bus and is hit by it. He loses his memory, he joins his mother's dance class, while still trying to remember who he is (even though his mother knows) and we're off to the races. I will say this right out of the gate, this movie is an unabashed crowd-pleaser. So if you need something to cheer you up, then this will be right up your alley. Another thing should be noted, however, that is the fact that this movie is best enjoyed if you understand Spanish. Not saying it's required, but there's certain things that are lost in translation and they're funnier if you understand the language. My native tongue is Spanish, so there you go. I feel the need to point this out, because there's movies similar to this where the movie isn't as enjoyed by other people because of that language barrier. I'm not saying this is the worst example of this, because I feel that a lot of people will be able to enjoy it even without speaking Spanish. But there are movies where knowing Spanish and understanding latin culture is a must, like My Big Night. I loved this fucking movie so damn, but it's a movie that works if you understand the pop culture behind it and I did. Another thing is the fact that, to me, Spain makes some of the more solidly consistent comedy films I've seen. Not that they're all great, but they're often good, at the very least. And, in general, I end up enjoying Spanish movies more often than not. There's obvious exceptions. Regardless, the point is that I enjoyed this movie. Paco Leon, who plays Fidel, is funny and charming. And his unfiltered views on everything, when he has amnesia, leads to some of the funnier moments of the movie. Carmen Machi is also very good and likable. The film relies on their chemistry and both Carmen and Paco are up to the task. Virginia, Carmen's character, struggles to keep things a secret, particularly when her dance class (along with Fidel) are invited onto one of these talent shows. She tries to protect him from the backlash he'll face given that there's a massive workers' strike against the company that Fidel worked for. These firings led to Virginia's other two sons getting laid off. So, at least, there's something for the characters to do other than just react to Fidel's quirks and his manner of speech. One of the things about this movie is that its pacing is kept incredibly tight. That does sort of limit the depths to which you can explore its characters, but I think that lack of depth isn't necessarily a bad thing for this type of movie. What this movie needed was to move at a brisk pace and it needed to entertain you. And, at least in my case, it certainly accomplished its goal. There is some sentimentality in the third act, once Fidel realizes who he is and once he is exposed on live TV on the show. I don't know if the movie earned this sentimentality, but it's not as detrimental to the movie as I originally thought it was upon finishing the movie. My experience with the movie was still an enjoyable one, even if this isn't gonna change the world in any meaningful way. If you're in a crummy mood, as I was last night, this is the right movie to perk you right back up. It knows what it is and it doesn't pretend to be anything more than that, so I'd recommend it. It's not the best movie of the year, but it entertained me and that should be the goal.
Jesse Ortega
Super Reviewer
The Tribe (La tribu) Quotes
There are no approved quotes yet for this movie.