The Ultimate Life
(2013)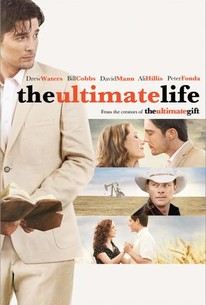 Movie Info
THE ULTIMATE LIFE The sequel / prequel to the award winning THE ULTIMATE GIFT Between the pressures of running his grandfather Red Stevens' foundation, being sued by his greedy extended family, and seeing his beloved Alexia leave on an extended mission trip to Haiti, Jason Stevens' world is unraveling. But then he discovers his late grandfather's journal and through his grandfather's writings is transported back to 1941 ... just after the great depression ... and experiences first hand Red Stevens' incredible rags-to-riches life. With everything he loves hanging in the balance, Jason hopes he can discover THE ULTIMATE LIFE. Opening in theaters September 6, THE ULTIMATE LIFE reminds us some things are worth more than money! (c) High Top
Critic Reviews for The Ultimate Life
Audience Reviews for The Ultimate Life
The plot has a lot of holes that needed filled and I wouldn't be surprised to see another sequel to continue the story.
Heather Metzger
½
The Ultimate Life is one of those well-meaning, big hearted films that has such poor production values and is riddled with so many anachronistic errors the film critic/snob in me cannot allow me to see past them to want to recommend the movie to others even though I believe it has a (very) strong moral message with which I agree. Directed by Michael Landon Jr., The Ultimate Life is as much a sequel as it is a prequel to the 2006 film The Ultimate Gift which starred a pre-Oscar nominated Abigail Breslin as a cancer-stricken child and James Garner (The Notebook) as dying patriarch Howard "Red" Stevens who leaves his billion dollar corporation and estate to his inexperienced but optimistic grandson Jason ... upsetting nearly all of his greedy family members who wanted it for themselves. "Life" takes up not long after the end of the first film with a recast Jason (Logan Bartholomew - American Wedding) getting sued by several discontent family members (surprise!) who still want the estate for themselves. Jason finds himself so bogged down with work and the lawsuit -- basically just money matters -- that he has little time to spend on what really matters in life. Given the journal of his grandfather (Garner reprises his role is a very brief video segment), Jason's readings make up 9/10ths of the film in flashbacks recounting Red's long road and struggle to become the man who became a billionaire while almost completely missing out on life itself. Lee Meriwether ('Barnaby Jones') and Peter Fonda (Easy Rider) are the bright spots in a cast comprised of mostly second-tier talent. As mentioned, the film has a good moral message but small details -- touch-tone (non-rotary) phones in the 50's, modern day $20 bills in the 30's, magnetic-stripped hotel room keys in the early 60's, a $3.50 burger in 1930 -- are careless mistakes that bother me too much. I know I am much-more-particular with my criticism of movies than others and my problems could easily be overlooked by those who appreciate the message in a movie more than a film's artistic merits. I am certain this is a film people would love as it means well ... and one isn't instantly distracted by an overpriced hamburger (Kobe beef?) in depression-era Oklahoma.
Thomas Williams
Don't see it! Just don't! Terrible movie with crappy acting and a dumb storyline. This story of faith is way off and you will leave the movie saying what the heck! It's not the Ultimate Life it's the i lost one our and a half of my life
Lansden Schmidt
The Ultimate Life Quotes
There are no approved quotes yet for this movie.
Discussion Forum
Discuss The Ultimate Life on our Movie forum!