The Veil
(2016)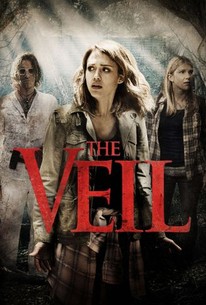 AUDIENCE SCORE
Critic Consensus: No consensus yet.
Movie Info
After being the lone survivor of a mass cult suicide twenty-five years earlier, Sarah (Lily Rabe) returns to the site of the cult with a film crew to find answers, but some of the tortured souls aren't done with her yet. Jessica Alba co-stars in this horror thriller directed by Phil Joanou.
Critic Reviews for The Veil
All Critics (3) | Fresh (0) | Rotten (3)
"The Veil" has a certain way with menace, but it never follows through on the sinister business it introduces.
The Veil's constant visual greyness highlights the mundane nature of this supernatural cultism flick, even in recognizing Thomas Jane's wonderfully demented antagonist.
It's an intriguing setup that is, unfortunately, employed to less-than-engrossing effect by director Phil Joanou and scripter Robert Ben Garant...
Audience Reviews for The Veil
½
A disturbing psychological thriller, The Veil delivers some good scares. The story follows the sole survivor of a mass cult suicide as she returns to the cult's compound with a documentary crew to attempt to find answers, which come when they discover a secret cabin full of homemade films. Starring Jessica Alba, Lile Rabe, and Thomas Jane, the film has a fairly solid cast, though their performances are rather underwhelming; with the exception of Jane, who does a frightening portrayal of a cult leader. Also, the plot is a little confusing at times and the ending is somewhat ambiguous. Yet while The Veil has its problems, it's a bone-chilling horror film.
Dann Michalski
Super Reviewer
½
This movie, I will admit, has a really intriguing concept that, sadly, doesn't ever really come to fruition in as satisfying a manner. But, at the same time, it's also a movie that actually over-delivers on every expectation you may have had prior to it. And I'm not saying that this is a good movie, it's average at best, but it is also better than I would've probably expected when I chose to watch it. I always say this, but it's not like I go in expecting a movie to be bad, but there's always some lowered expectations when you watch a low-budget horror film that didn't really have any buzz or positive word-of-mouth surrounding it. It's obviously not as good as a film like The Sacrament, with a similiar Jonestown-esque cult at its core. While I enjoyed The Sacrament tremendously, I really do mean that, the fact of the matter is that it was almost word-for-word the exact same thing as Jonestown, with the only exception being that they changed the names of the people. While this movie might not hit on all cylinders, at the very least, it is an ambitious horror movie that combines elements Jonestown, Heaven's Gate and a David Koresh-style leader along with some supernatural elements involving possession of the filmmakers' bodies in order to carry out their mission. The latter part does sound a bit silly, and I don't blame anyone for thinking that it is, but I thought it actually worked. Thomas Jane, surprisingly enough, was really quite good in this movie. And I say surprisingly because I've never found Jane to be that compelling or interesting of an actor. He's surprisingly committed to this role and he does a great job here. I will admit that there were certain scenes where he was hamming it up, but, by and large, he was quite good in the role. As far as horror, there's nothing really that outstanding, just a lot of jump scares and I think that's where the movie really falters. I do think that there is a sense of dread building up throughout the movie as to what exactly Jim Jacobs' mission truly is, but I don't think the movie pays that off well. Its over-reliance on jump scares hurt the movie. I just think that a lot of the horror should've come from peoples' willingness to go with anything Jim said without ever questioning him. And maybe that's not a source of horror in and of itself, but I mean if Jim told them to do something morally reprehensible and they just went along with it without ever questioning Jim's motives. The look of the film is a little drab and grey. I mean I get it, but there's nothing really that noteworthy about the film's cinematography. And there's this weird thing with the image at some point, like there's a invisible sphere that's focusing on certain character and the characters that are out of the sphere just look different. I don't really even know how to explain it, but it bothered me when I did notice it. So, as you can see, a bit of a mixed bag here. It's definitely better than I would've though, thanks to how its play with its cult concept and Thomas Jane's performance, but its dull look and over-reliance on jump scares and other horror cliches keep it from being a good movie. If anything, I'd recommend it for at least trying to be somewhat ambitious, even if I might not consider it a good movie. Watch at your own risk, though.
Jesse Ortega
Super Reviewer
½
Years after a cult mass suicide the one survivor returns - with a film crew, natch - to search for answers. It's a standard shocker (BOO!) lifted up by the performance by Thomas Jane as the charismatic if spooky leader of the cult. As the credits rolled I immediately wondered what they would do with the sequel.
Kevin M. Williams
Super Reviewer
The Veil Quotes
There are no approved quotes yet for this movie.