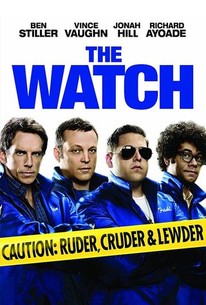 The Watch
2012, Comedy/Sci-fi, 1h 41m
167 Reviews
50,000+ Ratings
What to know
critics consensus
The Watch uneasily mixes sci-fi elements with gross-out gags and strands its talented cast with a script that favors vulgarity over wit at nearly every turn. Read critic reviews
Where to watch
Rent/buy
Rent/buy
Rent/buy
Rate And Review
Movie Info
In Glenview, Ohio, four pals -- Evan (Ben Stiller), Bob (Vince Vaughn), Franklin (Jonah Hill) and Jamarcus (Richard Ayoade) -- form a neighborhood watch group. Armed with flashlights, walkie-talkies and spiffy new jackets, the guys try to take their mission seriously, even if they spend a little time goofing off now and then. But when they discover aliens living among them, and no one believes their story, they learn that they have to kick things up a notch to save the world from annihilation.
News & Interviews for The Watch
Audience Reviews for The Watch
The neighborhood guys usually thought of as "trying too hard to fit in" band together to party and bond only to find unexpected redemption when aliens from space threaten the hood. You'll leave this wishing that they hadn't gone for the easy humor most times but, eh, whaddaya expect?

Eh. Ben Stiller and a gang of adult ragamuffins form a neighborhood watch only to be thwarted by divergent purposes and loyalties. The big alien twist is quite deus ex machina - oops spoilers - but Billy Crudup is slickly creepy as an Eyes Wide Shut sex emperor.

It had its moments... but they were too few!

In "The Watch," Evan(Ben Stiller) is the manager of a box store. In his spare time, he founds various clubs around his hometown of Glenview, Ohio; that is when he is not trying to get his wife Abby(Rosemarie DeWitt) pregnant. But when Antonio(Joe Nunez), an employee, is brutally killed while celebrating getting his American citizenship, Evan takes action by starting a neighborhood watch. And then only gets Bob(Vince Vaughn), Franklin(Jonah Hill) and Jamarcus(Richard Ayoade) to show up for an orientation meeting. That does not stop any of them from going out on patrol, though. It is not that "The Watch" is not particularly funny and nowhere near as good as "The Cornetto Trilogy" in comically exploring male camaraderie under extreme circumstances. It is that it cannot decide whether it wants to be a comedy in the first place. To start, its comic lead actors seem to be strangely enough playing it straight. But at least, Richard Ayoade, Rosemarie DeWitt and an uncredited Billy Crudup seem to get it. More of that would have gone a long way towards fully exploiting the satirical potential of the story, especially considering the choice mixture of the suburbs and alien invasion presented here, instead of this informercial for a big box store which apparently does sell condoms.
See Details