The Wizard of Gore
(1970)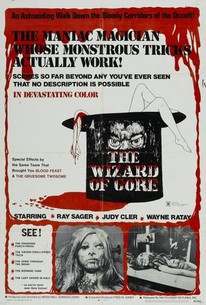 AUDIENCE SCORE
Critic Consensus: No consensus yet.
The Wizard of Gore Photos
Movie Info
A sinister illusionist gets away with ghastly murders on-stage in this unique horror story. Though Montag the Magnificent (Ray Sager) appears to be eviscerating beautiful volunteers from the audience with railroad spikes, chainsaws, and punch presses, the girls always smile afterward and walk away unscathed, leading the adoring crowd to admire the magician's handiwork. However, each evening, those same women are found horribly murdered in similar fashions, leading a young couple to take interest in the case. Sherry Carson (Judy Cler) is fascinated with Montag's show and wants to feature his magic on her afternoon television program. Her boyfriend, Jack (Wayne Ratay), is a sports writer, but he decides to investigate the weird homicides that have plagued the city since Montag appeared. Eventually, it becomes clear that the magician is planning to commit mass murder by hypnotizing the audience of Sherry's TV show, and Jack has to act fast. But the evil Montag's magic has already warped the fabric of reality, and no outcome is certain.
Critic Reviews for The Wizard of Gore
Audience Reviews for The Wizard of Gore
If you've seen a lot of horror movies form before 1970 you can see how Lewis ushers horror into a new gorier era with this film. Not only that, the story is great, especially the weird ending, it's awesome. I love this movie, and if you're a horror fan you should see it.
Is it magic? Or wholesale slaughter? See the woman cut in half with a chainsaw, see the woman drilled through the stomach with a giant punch press, see the metal spike driven through one gal's head and see the two ladies forced to swallow swords.
Blood, guts, and offbeat surrealism in another crackpot classick from "The Wizard of Gore" himself, director Herschell Gordon Lewis. This movie has been on my Netflix queue for quite a while so I can safely say that I've wanted to see it since before Juno was out. This is the fourth Herschell Gordon Lewis film I've seen so far and only the second I've liked, the other was Two Thousand Maniacs. This, much like Two Thousand Maniacs, is a good movie. Not because it actually has substance and is well thought out, but because it is a lot of fun to watch and has become a cult classic. Let's be honest for a minute here, when Herschell Gordon Lewis was directing films, he had no idea what he was doing. As a friend of mine said "he is the Ed Wood of gore films." I have to agree completely. The editing is always choppy and horrible, the music is poorly placed, the acting seems to be straight out of a junior high play, and nothing seems believable. This brings me to the gore. If HGL only got one thing right in his career, it was gore. The gore in this film is awesome and cheesy. He may have made bad films, but they sure are entertaining. Sorry for going off on so many tangents, I'll get back to this movie. The story follows a TV reporter and her boyfriend who attend a magician's show of blood and dismemberment. They become suspicious of several deaths being linked to the show. It's a simple story but it is a lot of fun. I really like the magician theme. The bad acting factor definitely applies in this movie. I often wonder where HGL found these people. But as always, the gore is magnificent(no pun intended) and almost saves the movie. I had a lot fun with it. See this movie if you're a fan of Herschell Gordon Lewis and you won't find much of anything new but it is a very good time. Go! Now!
Cassandra Maples
Super Reviewer
½
And here I thought the remake wasn't very good.
A.D. Villarreal
Super Reviewer
The Wizard of Gore Quotes
There are no approved quotes yet for this movie.