Theodore Rex
(1995)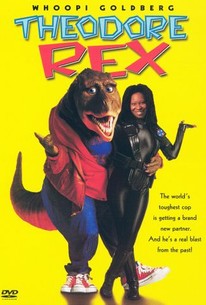 Movie Info
Whoopi Goldberg plays a detective who teams up with dinosaur Teddy Rex, who is also a detective, to investigate the death of another dinosaur.
Critic Reviews for Theodore Rex
All Critics (5) | Fresh (0) | Rotten (5) | DVD (1)
So what of this shame of New Line, the film that seemed like a no-win disaster to the star of Eddie and Made in America? It's pretty much exactly that bad, in fact
Audience Reviews for Theodore Rex
Every now and then I sit down and intentionally watch a bad movie to warn readers if it worth your time for the comedic values or just plain awful. Theodore Rex falls into the just plain awful category and one of the most bizarre movies Hollywood ever made. In order to fully get through this movie you'll need a six pack of your favorite beer hoping you won't have to drink any. The premise of Theodore Rex is idiotic with no potential that it should be viewed with low expectations. It starts with a bad text crawl which alone should indicates you're not going to watch anything good and explains the villain plans, which is a good thing since the actor who plays the villain can't speak clearly. When you're watching a movie about a talking T-Rex (the title is both a bad pun and the main character name) who's a detective solving crime in the future, you'll need drink alone. With the premise out of the way, you'll get an opening that both confusing and annoying, which involves a man killing a dinosaur with a Butterfly which blows up to reveal it was a dream. The movie gets even more over the top, which I thought couldn't be possible as you'll learn that dinosaurs have physic powers. At this point I'm barely at the beginning at the movie and already drank two beers, which I then decided to throw one beer can away to guarantee I wouldn't get my stomach pump. Unfortunately Theodore Rex didn't make that easy as the humor in this movie relies too much on Theodore knocking things over with his tail and eating cookies and are a frequent running gag. Although one unintentional laugh comes from the scene where Theodore and with his partner Coltrane (played Whoopi Goldberg) go to see a dinosaur dead body which just happened to be a museum. To avoid being lengthy and too detailed because Theodore Rex doesn't that kind of that of time, I'm going to write about certain scenes. Like how a dinosaur bar scene that looks like something you would see if you got drunk (which unfortunately I wasn't while drinking), and has a Molly Rex eating flowers which Theodore gave to her. Also, you'll be asking this too, why did the villain henchman destroyed Theodore car and then threw Custer pies at him? Which I have to honest is the only thing normal in this bizarre mess. The same could said about the dialogue as the commissioner actually says to Goldberg she embarrassed the force, were the writers drunk and forget that they were writing a movie about a talking T-Rex solving crime in the future. To date, this is the only movie I know off where you can hear a dinosaur say "Cookie, cookie, cookie" and "It's a hairy hotdog", which is really pathetic. I have to mention this one scene in the Toymaker warehouse where you'll see Goldberg, a T-Rex, a finger puppet, and hairy hotdog that turns into a butterfly. This was the point where I had nothing more drink, so I kept watching which clearly was a bad decision. In that same warehouse the Toymaker blows up his building and doesn't exit the building. I will give Theodore Rex some credit for having a story that manages to get worse the longer it goes. Now having watched this and over a hundred movies, this has the most anti-climactic climax I've ever seen as Theodore stops a doomsday device with a push of a button. Worst writing ever in a movie ever? Definitely much better than most of the bad movies I've seen. As for everything else, you should also have low expectations. The animatronics make the special effects and roaring shark from Jaws 4 The Revenge look realistic. These animatronics are cheap and have very noticeable bad lip movements; it also doesn't help the movie when you a have T-Rex flying the air making bird sounds. With all the bad negative about animatronics out the way, the only positive is that the dinosaurs weren't CGI which in my opinion is a welcome in a time were CGI are in to many movies. The same goes for the acting which ranges from bad, super bad, so bad I have no idea what you're saying, did I really just see a dinosaur singing bad, and finally, what were the cast thinking saying yes to this movie bad. One odd thing about this movie is that this is the second time I see Richard Roundtree in a very poorly written movie. The editing is a mess as well, especially when two scenes keep going back and forth when they have no connection to each other. This movie manages to get everything wrong, but considering what I've seen in the past, including De Lift a horror movie about a killer elevator, you could do worse. Theodore Rex is movie is a weirdly imaginative mess that truly does makes you wonder how this ever got made. While Theodore Rex is certainly not one the worst movies ever made, it comes pretty close to being one of the worst.
Caesar Mendez
Super Reviewer
I don't know what to say about this film. Rumor has it that Whoopi Goldberg didn't actually want any part of it, finally accepted for $7 million. It's a horrific mess of a movie. It starts with an opening crawl and narration that tells us "Once upon a time in the future..." already it's losing me. "At midnight tomorrow..." Wait a minute. The future is midnight tomorrow? Or am ... whatever. It then tells us the plot of the film, even revealing the villain, which I think was supposed to be a twist, but we're told his entire plan.
Luke Baldock
Super Reviewer
To quote comic book guy: "Worst. Movie. Ever." Who would ever think this was a good idea??
Sarah Prisbylla
Super Reviewer
Theodore Rex Quotes
There are no approved quotes yet for this movie.