They Wait
(2008)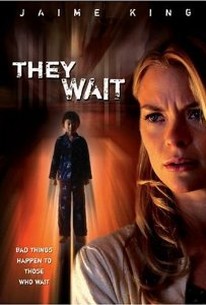 Movie Info
When a family of three returns to America for a family funeral after living in Shanghai for the past three years, a desperate mother races to save the life of her suffering child upon discovering that he has fallen victim to the wrath of a living corpse. Sarah, Jason, and their young son Sammy were living halfway across the world when they were summoned back home to pay their final respects to a beloved family member. Shortly after the funeral, however, an already grim situation takes a heart-wrenchingly bleak turn when Sammy falls mysteriously ill and appears to be on the brink of death. Failed by western medicine and desperate to save her ailing child, Sarah seeks out the assistance of a mysterious pharmacist who informs her that young Sammy is now in the grip of a living corpse. With precious little time left to appease the spirits before Ghost Month ends and their child is lost forever, the parents must now accept that fact that forces beyond their comprehension are at work and respond quickly to the demands of the dead before it's too late. ~ Jason Buchanan, Rovi
Critic Reviews for They Wait
Audience Reviews for They Wait
½
This movie is SO boring it's not even funny. There's literally ONE scare in the entire movie and that scare is very cheap. So there's really nothing going for this movie at all. It's not a terrible movie but I don't know, something was just lacking. There's only one remotely interesting thing about this movie is that it's, supposedly, inspired by true events. Other than that, there's nothing interesting about this movie so you won't be missing out on anything if you decide to skip this movie. At least I watched it on free tv, I'd have been mighty pissed off had I paid to see this.
Jesse Ortega
Super Reviewer
½
Sarah (Jamie King), Jason (Terry Chen), and their son Sammy (Oey), return to Vancouver for his uncle's funeral. Sammy and Sarah see ghosts and Sammy gets very sick. The movie is about Sarah first realizing what she is seeing, and then finding out what the ghost wants if she is going to save Sammy. The movie is scary enough plus you get to learn a bit of Canadian-Asian history.
Here is an interesting one! An intriguing story plot. Interesting cast. Definitely worthy.
They Wait Quotes
There are no approved quotes yet for this movie.