Thirty Two Short Films About Glenn Gould
(1993)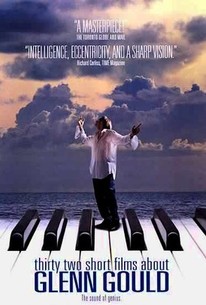 Movie Info
The highly acclaimed and famously eccentric classical pianist Glenn Gould is the subject of this idiosyncratic film portrait. As the title suggests, Gould's life is explored through a series of thirty-two self-contained but interrelated vignettes, a structure inspired by Bach's "Goldberg Variations," the compositions that were the basis for one of Gould's most famous recordings. Fictional recreations, many starring an excellent Colm Feore as Gould, follow the musician from his precocious childhood to his early death at the age of fifty. Juicy biographical details like a surprising early retirement from public performance and an addiction to prescription drugs are featured prominently, but equal attention is paid to Gould's challenging theoretical ideas. Director Francois Girard refuses to provide easy explanations for the pianist's quirks, instead using his unconventional structure to provide great insight while suggesting the real Gould remains essentially unknowable. Especially interesting is the film's mix of dramatization and documentary, as it juxtaposes its fictional recreations with actual interviews with Gould's friends and associates. ~ Judd Blaise, Rovi
Critic Reviews for Thirty Two Short Films About Glenn Gould
Audience Reviews for Thirty Two Short Films About Glenn Gould
A unique way to pay tribute to one of the most underappreciated performers in history. The 32 short films I'm sure contributed to the inspiration for many of the other great thematic short film collections that have come since.
John Ballantine
Super Reviewer
½
The movie is constructed of 32 short films that fit together on a preverbal way. There really is no time line and all of the segments are shot in stunningly different styles. The movie and his music are very complimentary. His music falls into the catch-all modern Jazz bucket. Like his music, the movie meanders around; has high points and are pleasantly amusing. I caught this movie on cable several years ago and viewed it several times after. Don't look for an arc or a point just enjoy it.
Bill Cavros
Super Reviewer
½
A really original and well crafted film with a great performance by Colm Feore. I didn't know a lot about this Gould guy, but I am pretty sure that I would want to beat the shit out of him if I met him. I am not a fan of eccentric people who really have no reason to be eccentric other than the fact that they are talented at something.
Thirty Two Short Films About Glenn Gould Quotes
There are no approved quotes yet for this movie.