This Revolution
(2006)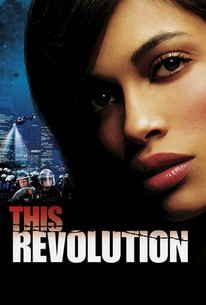 Movie Info
Filmmaker and activist Stephen Marshall, creator of the video news magazine Channel Zero and founder of Guerilla News Network, blends fiction with reality in this feature, shot in part during the 2004 Republican National Convention. Jake (Nathan Crooker) is a television news cameraman who has returned to the United States after a long assignment covering the war in Iraq. Jake is looking for work, but he doesn't always play ball with upper-level network heads, much to the annoyance of his girlfriend, Chloe (Amy Redford), a producer for a major cable news outlet. Adding to his mixed feelings about his job, Jake learns through experience that violent footage is what sells best, and that network higher-ups have turned over tape he shot of war protests to the Department of Homeland Security, violating his trust with activists attached to an anarchist collective. While in New York City to cover the Republican convention, Jake befriends a young boy (Brendan Sexton III), and in time meets his mother, Amy (Rosario Dawson), a pretty young widow whose husband died while serving in Iraq. Inspired by Haskell Wexler's classic Medium Cool, This Revolution made headlines during its production when Rosario Dawson was arrested while attending a protest being filmed for the movie.
Critic Reviews for This Revolution
Audience Reviews for This Revolution
I found this film to be provocative and thought-provoking despite some radical conspiracy theories prevalent in the film. It is mainly set during the Republican National Convention in NY. It's definitely not cinematographically stunning, but the lack of finesse allows for a realness of the film. In fact, some of the scenes were taken of actual events that occured; including Rosario Dawson's arrest. A strong movie with strong views.
nefnie lee
Super Reviewer
Yinalí Ríos
Super Reviewer
This Revolution Quotes
There are no approved quotes yet for this movie.