Thoroughbreds
(2018)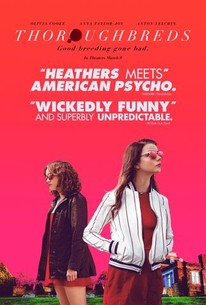 TOMATOMETER
AUDIENCE SCORE
Critic Consensus: Thoroughbreds juggles genres with panache, delivering a well-written and refreshingly unpredictable entry in the teen thriller genre.
Movie Info
Childhood friends Lily and Amanda reconnect in suburban Connecticut after years of growing apart. Lily has turned into a polished, upper-class teenager, with a fancy boarding school on her transcript and a coveted internship on her resume; Amanda has developed a sharp wit and her own particular attitude, but all in the process of becoming a social outcast. Though they initially seem completely at odds, the pair bond over Lily's contempt for her oppressive stepfather, Mark, and as their friendship grows, they begin to bring out one another's most destructive tendencies. Their ambitions lead them to hire a local hustler, Tim, and take matters into their own hands to set their lives straight.
News & Interviews for Thoroughbreds
Critic Reviews for Thoroughbreds
Audience Reviews for Thoroughbreds
Thoroughbreds is a dishy, tart little treat that kept me squirming, laughing, and gleefully entertained. Olivia Cooke (Me, Earl, and the Dying Girl) and Ana Taylor-Joy (Split) are outstanding as privileged teenagers trying to resuscitate their former friendship through collaborative murder. Cooke plays Amanda, a sociopath who cannot feel anything, who is incurably honest, and has stopped caring what others think. Taylor-Joy plays Lily, a self-involved young lady that feels overwhelmed by life and is skilled at dissembling. Together, the girls scheme to kill Lily's boorish stepfather and enlist the aid of a hapless small-time dealer with big plans (Anton Yelchin, in his final performance) through blackmail. The story from writer/director Cory Finley is immediately engaging with how it naturally reveals the complicated histories between Amanda and Lily as well as what makes each questionable. These are two very interesting people and just watching their probing push-and-pull was entertaining enough, especially with such strong performances. The characterization of a sociopath without a heavy moral condemnation was refreshing. We assume Amanda will be the bad influence but it really becomes the other way around, with Lily faking for her own purposes. Thoroughbreds is more dread-filled and unsettling than conventional thriller, and while there are some gallows humor to be had from the abnormal characters, this is less a dark comedy. There are drawn out tracking shots and methodical push-in camera movements meant to build audience anticipation, and they're mostly effective. The first half is a bit more engaging than what it ultimately delivers as a climax. It's still satisfying and well handled, but Finley throws in some misdirects that don't add a rising sense of stakes. The stakes are really more personal, which works since the crux is on the relationship between the girls and whether they are being honest or manipulative with one another. By the end, I thought I could argue either way who was manipulative and when. Small irony: the last scene you see of Yelchin is him as a valet parking other people's cars. Nate's Grade: B+
Nate Zoebl
Super Reviewer
½
UNSTABLE - My Review of THOROUGHBREDS (3 1/2 Stars) Writer/director Cory Finley's debut film, THOROUGHBREDS, joins the cannon of edgy, disaffected teen murder stories, tonally lodged somewhere between THE RIVER'S EDGE and HEATHERS with a dash of Stanley Kubrick, Wes Anderson, Michael Haneke, Whit Stillman and a little HEAVENLY CREATURES thrown in there for good measure. While I can't say I enjoyed watching it, I'm glad it exists...or maybe it's the other way around. The film stars Anya Taylor-Joy (THE WITCH, SPLIT) as Lily, a rich Connecticut teen who lives with her affectless mom Karen (Kaili Vernoff) and aggressive step-father Mark (Paul Sparks of HOUSE OF CARDS). Lily bears the self-possession of someone twice her age, presenting herself with crisp clothes and an assured, off-putting stare. Enter childhood friend Amanda (Olivia Cooke from ME AND EARL AND THE DYING GIRL and READY PLAYER ONE), whom Lily agrees to tutor when they reconnect after many years apart. Amanda, more so than Lily, knowingly operates in the world as a sociopath who has learned to sometimes mask her "dead inside" qualities with a quick, phony smile. Picking up on subtle social cues, Amanda recognizes right away that Lily cannot stand her step-dad. A diabolical plot to correct the situation soon follows, challenging the viewers' need for things like empathy, feelings, and heart in the types of stories they seek. Oh, and there are horses involved, in a vaguely EQUUS kinda way, but I won't spoil that in this review. THOROUGHBREDS, originally conceived as a play, feels like one, albeit a beautifully shot one, due to its limited locations and frequency of rarely having more than two people talking in well-appointed rooms throughout its brisk running time. Much credit goes to Finley and cinematographer Lyle Vincent for providing a consistent, highly accomplished visual presentation of its somewhat off-putting story. Add the late Anton Yelchin to the mix as a Hitman/Drug Dealer the girls hire to do the dirty work, and we have the makings of a well-acted thriller. Unlike some of this film's cousins, however, most of the performances feel like variations of a deadpan style that got a little repetitive for me. Every now and then Sparks or Yelchin pop with their line deliveries, but our two leads keep things at a very chilly level. It's all very appropriate for the types of characters on display, but it's an acquired taste when it comes to any sort of fun factor. This is one dark, dry, distancing film. It's also chilling to witness the brutality Yelchin's character suffers here and in his previous film, THE GREEN ROOM, considering the gruesome details of his death, yet his considerable talents show what a world class actor he was and he'll be missed. Despite its labored tone and pacing, THOROUGHBREDS builds to something quite compelling. It's about the need for empathy and innocence in our lives, and that sometimes we savor those things even if they're faked. The film leaves its audience hanging on an ambiguous yet very poetic note, one which announces Cory Finley as a filmmaker to watch and its lead actors as ones with hidden wells of depth.
Glenn Gaylord
Super Reviewer
½
This film deals with the strange bond between two completely different teenagers, one (Amanda) a social outcast in the midst of an investigation involving animal cruelty, while the other (Lily) privileged with a promising future. However, the interesting thing about Thoroughbreds is how Cory Finley flips those perceived personalities and constantly keeps the audience guessing with how he will approach each character's next decision. Which of course, contains a plot to kill Lily's father. You know, just your average high school thriller. Unexplainable violence is always something that has fascinated audiences. It's not something to be taken lightly, but there's no denying there's some sort of obscure appetite for films involving violent action without real reason behind it, like 2 films that the film is being compared to (American Psycho and Heathers). And like those films, Thoroughbreds takes a dark comedy approach to the violent premise, to mostly effective results. When I go into a movie experience like Thoroughbreds, one of the things I always look for is to be entertained but also surprised. Not necessarily by the events of the plot, but by the way the story is told. With Thoroughbreds, I loved the way Cory Finley positioned his direction to be refreshing and detailed. There's never a huge WTF scene with huge action, but the thrills come by a calm sense of tension, and by the unsettling performances from Olivia Cooke as Amanda and Anya Taylor-Joy as Lily. It's not a surprise to see either do well, but I loved watching them outdo each other in each respective scene. 7.5/10
Thomas Drufke
Super Reviewer
Thoroughbreds Quotes
There are no approved quotes yet for this movie.