Three Billboards Outside Ebbing, Missouri
(2017)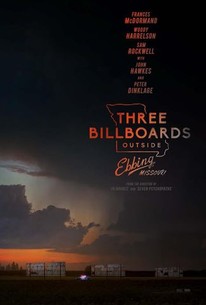 TOMATOMETER
AUDIENCE SCORE
Critic Consensus: Three Billboards Outside Ebbing, Missouri deftly balances black comedy against searing drama -- and draws unforgettable performances from its veteran cast along the way.
Three Billboards Outside Ebbing, Missouri Videos
Three Billboards Outside Ebbing, Missouri Photos
Movie Info
THREE BILLBOARDS OUTSIDE EBBING, MISSOURI is a darkly comic drama from Academy Award winner Martin McDonagh (IN BRUGES). After months have passed without a culprit in her daughter's murder case, Mildred Hayes (Academy Award winner Frances McDormand) makes a bold move, painting three signs leading into her town with a controversial message directed at William Willoughby (Academy Award nominee Woody Harrelson), the town's revered chief of police. When his second-in-command Officer Dixon (Sam Rockwell), an immature mother's boy with a penchant for violence, gets involved, the battle between Mildred and Ebbing's law enforcement is only exacerbated.
News & Interviews for Three Billboards Outside Ebbing, Missouri
Critic Reviews for Three Billboards Outside Ebbing, Missouri
Audience Reviews for Three Billboards Outside Ebbing, Missouri
½
Although Martin McDonagh's last film, Seven Psychopaths, had a fervent fan base I was very disappointed in it; narratively it was all over the place and I found the humour to be extremely forced. With Three Billboards... it's good to see that McDonagh has taken stock and decides to deliver something a bit different this time. Like his brother John Michael did after delivering laughs with The Guard, he followed it up with a more serious tone in Calvary and it was a magnificent change of direction. This doesn't quite hit the same level as his brother's aforementioned film but there's still plenty to admire here. Plot: Mildred Hayes (Frances McDormand) is an angry, grieving mother who demands justice for the rape and murder of her teenage daughter. But after months have passed and still no arrests, Mildred makes a bold move and has three billboards erected that accuse the local Sherrif (Woody Harrelson) of doing nothing about it. This causes a feud between Mildred and the local law enforcement that only escalates over time. As the title suggests, we open on said three billboards which serve as the driving force behind the film's plot developments. Although the message they contain is a striking one, they essentially serve as a self-reflective, moral question that eats away at a number of the small towns inhabitants - none more so than Francis McDormand's mother of the deceased and Woody Harrelson's Police Chief in charge of the investigation. What McDonagh manages to capture here is a fine sense of small town America and how such a tragedy can be so impactful and devastating. This is ultimately the strengths within the film as well as some excellent acting from its three principle leads in McDormand, Harrelson and, the always reliable Sam Rockwell. There's also some fine support in the mould of Caleb Landry Jones, John Hawkes and, the infinitely appealing, Peter Dinklage. To accompany the cast of oddities we have a wonderfully fitting score from Carter Burwell that's reminiscent of his contributions to the works of the Coen brothers. The Coens this ain't, however. McDonagh isn't able to balance his film with the same finesse as the Coens. As he did in his previous films In Bruges and Seven Psychopaths, he includes some offensive racist jokes in one hand while bordering on sexism in the other. As if that's not enough he has Dinklage on the receiving end of one-too-many "midget" jibes. If handled with a bit more subtlety then they might have been acceptable but it's the needless repetition of these remarks that make them unpleasant. These were the issues I had with the film as they create tonal shifts that feel uneasy and show that McDonagh is trying too hard to be funny when there's really no need. When he's not concerned with humour, however, McDonagh is actually delivering a solid low-key drama and thankfully that's what takes precedence. Essentially, the film is split into a three act structure McDormand hasn't been offered a role this good since her Oscar winning turn in Fargo but, as good as she is, I'm not understanding some of the glowing, five-star reviews the film itself has been receiving - much like I didn't understand the love for Seven Psychopaths. Maybe it's just me but McDonagh really needs to work on his tonal inconsistencies which play havoc on an otherwise great concept. There are contrivances and some plot developments that simply don't work but as a commentary on the state of modern America it's quite astute and while it explores some mature themes, I just can't get past the overriding feeling that McDonagh has yet to grow into a mature filmmaker. This is a good film but it just lacks that cutting-edge spark to make it a great one. Mark Walker
Mark Walker
Super Reviewer
Halfway through this film, I was ready to call it the best film of the year. Then the story started taking wild turns and got a little out of hand, but I will take a messy and original story over a clean and mundane one any day. The dialogue is well written, but it's McDormand and Harrelson's performances that carry this movie. It's dark, its funny and it has a really interesting premise. I am not sure how I would have concluded this unique story, but it seems neither did McDonagh. You just have to take the good with the bad when it comes to this one, and I'm okay with that.
Sanjay Rema
Super Reviewer
Mildred (Frances McDormand) is a divorced single mother working in the small town gift shop of the small town of Ebbing, Missouri. It's also been seven months since her teenage daughter was raped, murdered, and set on fire. She rents out three billboards on a rarely used side road to advertise her frustrations with the slow pace of law enforcement. The billboards say, "Raped while dying," "Seven months and no arrests," "How come, Chief Willoughby?" The chief (Woody Harrelson) tries to pacify the grieving mother while keeping his loyal officers in check from retaliation. Deputy Dixon (Sam Rockwell) is trying to apply pressure to get the billboards removed by any means. The small town loves their sheriff and turns on Mildred, which suits her just fine. The more people that disagree with her the more it helps fuel her sense of righteous indignation. Mildred engages in an escalating series of battles with the police and town that might just make justice impossible. Three Billboards Outside Ebbing, Missouri feels like a Coen brothers' movie played straight, and it's borderline brilliant in its depiction of homespun characters allowed tremendous emotional latitude. These are people with complex depth who are allowed the power to be contradictory. They can be vicious one moment and kind the next, wise one moment and impulsive and self-destructive the next, capable of great acts of mercy and cruelty. This achieves two things: 1) making the characters feel far more convincingly drawn, and 2) making the characters consistently surprising. This is a messy movie but I don't mean that as any intended insult. It's messy in scope, messy in tone, and yet it thrums with the messy feelings and messy complications of human tragedy. What happened to Mildred's daughter is utterly horrifying and her rage is righteous; however, that doesn't sanctify her. She makes mistakes, pushes people away, and can be cruel even to her own family. I was expecting Harrelson's police chief to be a sort of villain, either incompetent or conniving, willfully ignoring the murder investigation. This is not the case at all and he is full of integrity and rightfully beloved in his community. As happens in many criminal cases, the trail of evidence just ran cold, but Mildred would prefer every male in the city, state, and even the country be blood tested to find a culprit. Her demands are fundamentally unreasonable and Willoughby points out the many civil rights protections in possible violation. Just because Mildred has been wronged does not make her the hero, and just because Willoughby is the face of local law enforcement does not make him the enemy. They are people with much more in common than they would ever admit. The awful circumstances of the plot have pit them against one another in an escalating tit-for-tat that serves as projection for Mildred's blinding fury against a world that would rob her of her daughter. The dichotomy of sweetness and terror is best exemplified in the transformation of Mildred and Dixon, one of the most satisfying and engrossing film experiences of the year. Thanks to writer/director Martin McDonagh's deft handling, these two characters start at opposite ends and grow before our eyes. Mildred tests the limits of her resolve and anger and makes costly mistakes. Dixon begins as the screw-up with a badge (hat he literally misplaces) rumored to have tortured a black prisoner in jail. He seems like the dim-witted poster boy for unchecked masculine privilege. He feels like an enforcer of the corruption we (wrongfully) assume is at work in this small town. As Mildred descends into darker decisions, Dixon ascends and chases a redemptive arc, which is amazing considering the damning behavior he engages in at the halfway mark. These two characters start as adversaries and develop into begrudging allies in a completely organic way that doesn't blunt either character. That transformation is thrilling to watch and terrifically satisfying on its own terms. By the very end of the movie, I was ready and willing to watch its hypothetical sequel setup, especially if it meant I got to spend more time with these carefully crafted people. McDonagh's film juggles many tones, effortlessly switching from laugh-out-loud comedy to crushing drama and back again. I was genuinely surprised how many times I laughed and how hard I was laughing. During my second theatrical viewing, there was an old woman in the back who was quite vocal in her bafflement about how anyone could be laughing. And if you were told the specifics of the plot and its heavy subject matter, I would tend to agree. McDonagh has a preternatural feel for how to find humor in the most unlikely of places. The humor dissipates as the film marches into its second half, a natural byproduct of having to raise the dramatic stakes and make things feel serious. This is the first grounded drama in McDonagh's filmography (In Bruges, Seven Psychopaths). He doesn't shortchange the impact of his drama by weaving in more heightened comedic moments. The characters feel realistically developed and portrayed and are allowed to exist in moral grey areas. There's a minor character played by Peter Dinklage who is positioned as a romantic option and a bit of a fool, but by the end you feel degrees of sympathy even for him. Even this most minor of supporting characters (not a comment on Dinklage's stature) has earned your emotions. That's great storytelling but it's also tremendous execution from the director. Another sure sign of McDonagh's command for tone is that he undercuts his story's moment of triumph. I'll dance around spoilers but Three Billboards looks to end in a way where several characters would claim a hard-won victory, and McDonagh casually strips that away. Even though this is a movie, and even though there are moments of broad, irony-laced comedy, the complexities and disappointments of real life emerge. Even to the very end, Three Billboards doesn't follow the expected rules of How These Things Go. The excellent acting gives further life to these tremendous characters. McDormand (Fargo) is radiating with ferocious resentment and indignation. Her character is a walking missile that just needs to be pointed in the right direction. Her stares alone could cause you to shrivel. McDormand hasn't been given a character this good in years. She opens up the full reserve of her deep acting reservoir, able to flit from great vulnerability to intense repulsion. She has plenty of big moments where she gets to tell off the disapproving townspeople and media members. It's ready made for easy laughs, but McDormand is so good that she shades those moments with subtler emotional nuance. You get the laugh and you also get further character insight. It's a performance of such assured strength that I imagine you'll be hearing her name often during the awards season. Rockwell (The Way, Way Back) has also never been better. He has to play a similarly deep array of emotions, from idiot comedy to heroic dramatics, and at every point Rockwell is stunning. He makes every joke twice as funny. When Dixon becomes a larger focus of the story is when he undergoes more intensive introspection. He goes from buffoon to three-dimensional character. Harrelson (War for the Planet of the Apes) also delivers a worthy performance as a proud yet wounded man who is trying to do right against a world of pressures and self-doubt. Three Billboards is an impressive, absorbing, searing film gifted with some of the best-developed characters in 2017. The portrayal of the characters is so complex and given startling life from such amazingly talented actors. You'll watch three of the best performances of the year right here. You get a really strong sense of just how life has been irrevocably altered from this heinous crime, not just with Mildred but also for the town as a whole. Things cannot go back to being the way they were. The characters you like can make you wince. The characters you don't like you might find yourself pulling for. Thanks to the complexity and nuance, the film delivers a raft of surprises, both pleasant and painful. These people feel closer to real human beings. McDonagh's brilliant handling of tone and theme is a remarkable work of vision, cohesion, and execution. This is a darkly comic movie that can make you bust out laughing and an affecting human drama that can make you cry. It takes you on a journey that feels authentic and wildly entertaining. Three Billboards Outside Ebbing, Missouri (which should have simply been called Three Billboards) subverts typical Hollywood clichés by making sure, even during its wilder flights of comic fancy, that everything is grounded with the characters first and foremost. Nate's Grade: A
Nate Zoebl
Super Reviewer
Three Billboards Outside Ebbing, Missouri Quotes
There are no approved quotes yet for this movie.
Discussion Forum
Discuss Three Billboards Outside Ebbing, Missouri on our Movie forum!