Three Miles North of Molkom
(2007)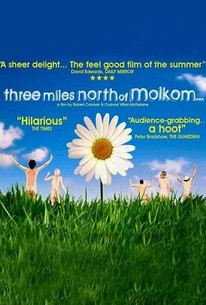 Movie Info
Each July, various followers of New Age thinking from around the globe searching for new levels of enlightenment congregate in a forest in Sweden for the annual No Mind Festival, and filmmakers Corinna Villari-McFarlane and Robert Cannan paid a visit to the festival with a camera crew in tow. Three Miles North of Molkom is a documentary that examines the event as it's seen by a handful of participants. Ljus is an aging flower child from the United States who is still chasing the freedom of the hippie dream. Regina is a musician who is attending with her friend Marit, and they find they've unwittingly becomes the festival's sex symbols. Peter is a husband and father who seem convinced his wife at home needs a new way of living even more than he does. Despite his name, Siddhartha works in a Swedish shipyard and seems the very model of an old salt. Mervi used to work as a career advisor but now she's trying to find a better direction for her own life. And Nick is a footballer from Australia who seems highly skeptical of the mystical and metaphysical chatter all around him, though by the end of the festival he seems to be warming a bit to the advise he's been given. As these seven seekers walk on hot coals, join a massive "sharing circle," contact their primal spirits and contemplate tantric eroticism, they seem alternately puzzled and intrigued by the grab-bag of philosophies being offered at every turn. Three Miles North of Molkom was screened in competition at the 2008 Hot Docs Film Festival in Toronto.
Critic Reviews for Three Miles North of Molkom
Audience Reviews for Three Miles North of Molkom
Three Miles North of Molkom Quotes
There are no approved quotes yet for this movie.