Tim's Vermeer
(2014)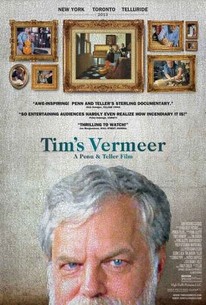 TOMATOMETER
AUDIENCE SCORE
Critic Consensus: Entertaining and profound in equal measure, Tim's Vermeer uses its seemingly esoteric subject to pose fascinating questions about art and obsession.
Movie Info
Tim Jenison, a Texas based inventor, (Video Toaster, LightWave, TriCaster) attempts to solve one of the greatest mysteries in all art: How did 17th century Dutch master Johannes Vermeer ("Girl with a Pearl Earring") manage to paint so photo-realistically - 150 years before the invention of photography? The epic research project Jenison embarks on to test his theory is as extraordinary as what he discovers. Spanning a decade, Jenison's adventure takes him to Delft, Holland, where Vermeer painted his masterpieces on a pilgrimage to the North coast of Yorkshire to meet artist David Hockney and eventually to Buckingham Palace, to see the Queen's Vermeer.
News & Interviews for Tim's Vermeer
Critic Reviews for Tim's Vermeer
Audience Reviews for Tim's Vermeer
Did world famous artist Vermeer use technology to create his masterpieces? A fanciful consideration taken very seriously by a tech wunderkind and recorded by Penn & Teller to the enlightenment of all mankind. A documentary that'll force you to reconsider just what it is you think art is. Excellent stuff.
Kevin M. Williams
Super Reviewer
½
Tim's Vermeer is the study of how a non-artist could construct a masterpiece. For most of the film we watch as Tim attempts to copy The Music Lesson. His pursuit occurs over several months. Only a very rich man with deep pockets could possibly endeavor such a colossal undertaking of time and money. At times the experiment is almost like watching paint dry, and the chronicle even acknowledges this. Yet the results are astonishing nevertheless. One might suggest that his findings negate Vermeer's accomplishments. I found quite the opposite. Assuming this is how Vermeer worked, it re-enforces how difficult it was to create his compositions. Tim's Vermeer is something I'd recommend to anyone with an appreciation for Baroque painting. It probably plays more like a special on public television than as a theatrical movie, but as far as this art history buff is concerned, I was transfixed. fastfilmreviews.com
Mark Hobin
Super Reviewer
As an inventor and special effects innovator, Tim Jenison probably deserves having a documentary made about him just on those criteria alone. But it is his investigation into 17th century painter Johannes Vermeer who was renowned for photographic like realism in his paintings that is of interest in the fascinating and entertaining documentary "Tim's Vermeer" from Penn & Teller. Due to not wanting contemporaries stealing ideas from him(and probably also to mess with future art historians), Vermeer left behind no notes on his methods. However, certain art historians have theorized that he created his famous paintings with mirrors, or more precisely a camera obscura. That's where Tim Jenison comes into the picture and the documentary by using his engineering expertise to recreate the conditions necessary, first on a copy of a modern photograph of his father-in-law(signed with a black felt tip pen, no less), followed by a reconstruction of one of Vermeer's paintings with a little help from some of the most patient family imaginable.(To be honest, I do suspect there was a little horsetrading involved.) Not only does all of which not take away from the magic of the paintings, but actually puts us all in awe of the painstaking tasks it took to create such great art. This was at a time when Vermeer had to create all of the geometry of his setup from scratch.
Tim's Vermeer Quotes
There are no approved quotes yet for this movie.