To the Limit
(2008)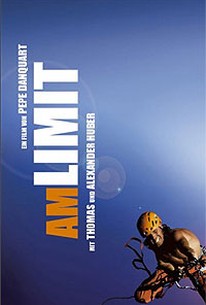 Movie Info
Speed rock climbing is the latest wrinkle in the growing pantheon of extreme sports; high-speed climbers take the basic rudiments of mountain climbing and shift them into overdrive, climbing sheer cliffs in a matter of hours rather than days. Filmmaker Pepe Danquart offers a look at this exciting new sport and two of its best-known proponents in the documentary To the Limit. Alexander Huber and his brother Thomas Huber are profiled as they demonstrate their skills in the mountains of Patagonia and set out to climb El Capitan, a mountain in Yosemite National Park over 3,000 feet high, in a furious 150 minutes, a notion Alexander jokingly describes as "an assault against common sense." While featuring dazzling footage of the Huber brothers in action, To the Limit also offers an insight on the rivalry between the siblings and their passionate need to confront fellow climbers as well as nature itself.
Critic Reviews for To the Limit
Audience Reviews for To the Limit
This documentary follows two Bavarian brothers on their climbing trips around the world and particularly their biggest challenge: to climb a peak in Yosemite Park that usually takes 5 days in 2 and a half hours. The landscape shots are stunningly beautiful, the soundtrack nice, the climbing scenes dizzying and spectacular. Their final attempt to tackle the speed climb record is exciting and exhausting to watch. Sadly, the middle part of the film is somewhat slow with too much personal talking going on. That said, the cinematography is so fantastic that many scenes of this will probably be hard to forget. Worth checking out.
To the Limit Quotes
There are no approved quotes yet for this movie.