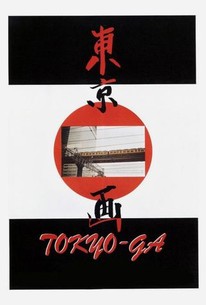 Tokyo-Ga
1985, Documentary, 1h 32m
5 Reviews
100+ Ratings
Rate And Review
Movie Info
German director Wim Wenders made this documentary in which he tries to explore the Tokyo that was depicted in the films of Yasujiro Ozu. When Wenders visits Tokyo for the first time, he finds a very different city, one with a booming fascination with technology that often clashes with the traditional elements of Japanese culture. Wenders also interviews Ozu's cinematographer, Yuharu Atsuta, and Chishu Ryu, an actor who frequently collaborated with Ozu.
Audience Reviews for Tokyo-Ga
"Tokyo-Ga" is a documentary wherein Wim Wenders travels to Japan to pay his respects to the memory and films of Yasujiro Ozu, starting and ending with clips from the classic "Tokyo Story." Along the way, he sounds rather cranky in finding a Japan unlike those found in Ozu's films, not realizing that they were one person's vision and also in their own way hermetically sealed, not unlike the wax fruit Wenders is obsessed with watching being made. But that it is not to say that there is nothing of interest in "Tokyo-Ga." How could there not be when he talks to Chishu Ryu and Ozu's longtime cameraman? Otherwise, Wenders hangs out with other directors who are passing through Tokyo like Chris Marker and Werner Herzog who is on his way to Australia. The bad news is that all of Herzog's speech is in unsubtitled German. The good news is I can make out 'Star Lab' and 'Space Shuttle' which kind of makes me curious to know what he was getting up to next.

i felt like wenders could've done a lot more with this :\

One of the most enjoyable documentaries I've seen, this meditation on Japan and director Yasujiro Ozu, is chock full of amazing images 80's Japan.
See Details