Tokyo-Ga
(2003)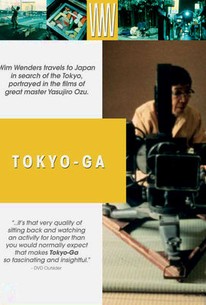 Movie Info
In this intriguing documentary, award-winning German director and producer Wim Wenders combines clips from one of his favorite directors, Ozu Yasujiro (see the tribute to Ozu, Ikite wa Mita Keredo.. by Inoue Kazuo), with actual scenes from the sprawling, crowded megalopolis of Tokyo to discover where the real world and cinematic license may intersect, if at all. Ozu's films captured the poignant and fleeting aspects of worldly existence -- as in colorful autumn leaves that cannot last long. Wenders almost emulates his technique when he decides, in this 92-minute look at Tokyo -- to spend time on fragments of city life that are telling, eloquent statements of a Japanese ethic. Golfers on city rooftops, the neon lights of the famous Ginza shopping area, baseball games in a cemetery, the omnipresent televisions (even in taxis), and the waxed-over food that stands for months and years in restaurant windows to advertise the menu are all surreal and eloquent scenes. Juxtaposed against the noise and bustling crowds in a city in which people live elbow-to-elbow -- and contrasted with viewpoints on Ozu offered by two former associates -- these scenes and their counterpoints present a well-rounded view of Tokyo, Ozu, and what it means to be Wim Wenders filming in Japan.
Critic Reviews for Tokyo-Ga
All Critics (5) | Fresh (3) | Rotten (2)
Wonderfully absurd hero-worshiping homage to Yasujiro Ozu.
Wenders bops around Tokyo with the assurance of a skilled filmmaker, and emerges with an understated but certainly curious sociological postcard of '80s Tokyo.
May 18, 2006 | Rating: 3.5/4
Audience Reviews for Tokyo-Ga
"Tokyo-Ga" is a documentary wherein Wim Wenders travels to Japan to pay his respects to the memory and films of Yasujiro Ozu, starting and ending with clips from the classic "Tokyo Story." Along the way, he sounds rather cranky in finding a Japan unlike those found in Ozu's films, not realizing that they were one person's vision and also in their own way hermetically sealed, not unlike the wax fruit Wenders is obsessed with watching being made. But that it is not to say that there is nothing of interest in "Tokyo-Ga." How could there not be when he talks to Chishu Ryu and Ozu's longtime cameraman? Otherwise, Wenders hangs out with other directors who are passing through Tokyo like Chris Marker and Werner Herzog who is on his way to Australia. The bad news is that all of Herzog's speech is in unsubtitled German. The good news is I can make out 'Star Lab' and 'Space Shuttle' which kind of makes me curious to know what he was getting up to next.
i felt like wenders could've done a lot more with this :\
Stella Dallas
Super Reviewer
½
One of the most enjoyable documentaries I've seen, this meditation on Japan and director Yasujiro Ozu, is chock full of amazing images 80's Japan.
Graham Jones
Super Reviewer
Tokyo-Ga Quotes
There are no approved quotes yet for this movie.