Tomie
(1999)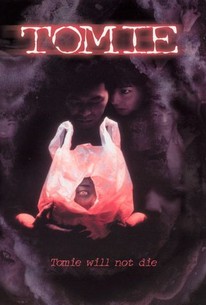 AUDIENCE SCORE
Critic Consensus: No consensus yet.
Movie Info
Riding the trend of Japanese horror flicks after the wild international success of Ring, this film -- directed by Ataru Oikawa -- centers on a murder victim who just won't die. The film opens with the police investigating the murder of high school girl Tomie Kawakami (Miho Kanno). They learn that in the months following the crime, nine students and one teacher have either committed suicide or gone insane. The detective assigned to the case (Tomoro Taguchi) learns that three years prior another Tomie Kawakami was murdered in rural Gifu prefecture. Other slain Tomie Kawakami's are discovered stretching all the way back to the 1860s, right when Japan began to modernize. The detective tracks down one of Tomie's classmates called Tsukiko (Mami Nakamura), an art student who is being treated for amnesia. She has absolutely no memory of the three-month period around Tomie's death, and is starting to suspect the cause has a supernatural source. Meanwhile, Tsukiko's neighbor (Kota Kusano) is rearing a peculiar baby-like creature. Over the span of a couple weeks, it grows into a beautiful teenaged girl with orange eyes responding to the name of Tomie Kawakami.
Critic Reviews for Tomie
There are no critic reviews yet for Tomie. Keep checking Rotten Tomatoes for updates!
Audience Reviews for Tomie
An excellent idea is given a beautifully surreal tone. Tomie is a sort of demon that starts life as a head. The head is cared and fed for before becoming a full human again. The film can become rather confusing at times, as it jumps between Tomie's resurrection and Tsukiko trying to recall her repressed memories. The film takes on lust as it's major theme, and shows the pointless and destructive nature it can awaken in people. It also manages to have a sly sense of humour. The music was the most memorable part for me, the songs sounded familiar but also came across as warped and eerie. Bizarre and very dream like, this is an effective spooky tale (it's not exactly a horror), which manages to overcome most of it's budgets constraints.
Luke Baldock
Super Reviewer
½
Tomie is one of a series of movies revolving around the Tomie character.
Unlike some other Asian horror films where the story is weird and difficult to follow, this one is much more easy to manage. If you like weird complex stories, don't be disappointed, because there is still a ton of weirdness to go around. The main character of Tomie begins the film as a baby and by the half way point, which is only a few days time, she is a full grown beautiful young woman. Weird enough for you.
The first hour of this 90 minute flick is fairly slow. This is probably why the story is easy to follow. During this first hour the story unfolds with minimal scares and gore. Instead you get a lot of airtime and background for Tsukiko. Tomie is kept in the dark by only having shots behind her head or having her show up in dark places to make her face hard to see. This is a nice tactic, although it is a shame that the beautiful face of Tomie remains hidden.
Since the first hour is a lot of buildup, it just makes the last 30 minutes that much more freaky. The two young women carry this film to the very end. The lesbian kiss almost makes up for that bag of roaches that Tomie pulls out. Nah, they don't kiss. You want them to, but they don't. But seriously, they do. Or don't they?
There really isn't much to the acting. Miho Kanno, who plays Tomie, impresses the most. She has such a wicked laugh. Mami Nakamura doesn't do all that much, but she is cute. Enough said.
The first part of this film is a little lacking, although the ending makes up for it. This is a good watch for fans of Asian horror.
Tomie Quotes
There are no approved quotes yet for this movie.