Toni
(1934)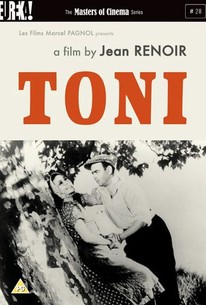 Movie Info
After completing his successful Madame Bovary (34), director Jean Renoir could have had the pick of France's top "name" actors for his 1935 film Toni, but chose instead to use nonprofessionals. The plot was based on a true story, brought to Renoir's attention by the sheriff of the village where it occurred. The story is the basic "good man destroyed by bad woman" conceit: An Italian laborer sets the gears in motion for Zola-esque tragedy by falling in love with a young woman, who then marries his foreman. This terse triangle is given verisimilitude by the unknown players and the location filming at the actual village where the real-life incident took place; what could have been relentlessly grim material is imbued with warmth and sentiment by Renoir. Taken for granted upon its initial release, Toni was obviously a major influence in the Italian Neorealist movement of the 1940s; the Renoir film finally and permanently secured classic status in the auteur-conscious 1960s. ~ Hal Erickson, Rovi
News & Interviews for Toni
Audience Reviews for Toni
"toni" is jean renoir's pioneering stimulus to italian neo-realism under the aroma of picturesque backwater surrounded with the rural pastures, the barren cliff and placid vineyards that weave a backset of astrayed affairs in a noirish mode with the trampy femme fatale and his willing romantic sap as the sacrificial lamb. the story is about the italian immigrant toni who is transported to french countryside to earn his honest living...and toni gets tangled up with two females, one is his virtuously generous landlady marie, the other is the lecherous josefa who literarily sleeps with every possible man she could seduce. futilely toni crazes for virtueless josefa but heartbroken by her infidelity so he ends up marrying marie but still carries a torch for josefa. eventually toni becomes the sucker utilized and doublecrossed by josefa and her ruthless cuckold. the social satire aspect is the whirling round of italian immigrants, after toni's ill-fated closure, there're yet another bunch of naive foreign immigrants departing from the train with their naive dreams in this desolate field. to be faithful to the consistancy of neo-realism, the music score of toni is accompanied completely by immediate guitar -playing by the background, and every character looks as crudely primitive as possible to create an atmosphere of wasteland, and contrarily this arrangement feels offbeatly poetic in an artlessly natrual way just like an endearing folk song with contagious affinity.
Veronique Kwak
Super Reviewer
Toni Quotes
There are no approved quotes yet for this movie.
Discussion Forum
Discuss Toni on our Movie forum!