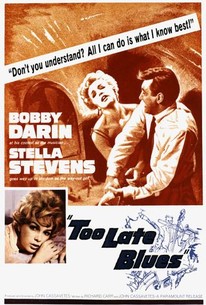 Too Late Blues
1962, Drama, 1h 40m
10 Reviews
250+ Ratings
Where to watch
Rent/buy
Rent/buy
Rate And Review
Movie Info
A jazz-band pianist (Bobby Darin) bottoms out because of a blonde (Stella Stevens), then tries for a comeback.
Audience Reviews for Too Late Blues
For Ghost Wakefield(Bobby Darin), the music is everything. For his bandmates, a little cash would be nice from time to time, so they could at least settle their bar tab, much less take care of any responsibilities that come with getting married and/or older. At least, they can all pretty much agree on how much a drag a music industry party is. That is, until Ghost meets Jessica Polanski(Stella Stevens), a beautiful singer who is being tormented by their agent, Benny(Everett Chambers). Together, Ghost and Jessica make a break for it to his favorite watering hole. As strange as it might seem to some that John Cassavetes would use an all-white band as part of a statement to disprove stereotypes about jazz musicians(admittedly, there are lots of non-white faces in the early scenes), it should not seem as unusual that he is just as interested in the thorny issue of artistic integrity.(Why the musicians in the film never pass the hat is beyond me.) With his second film as director, he has already crafted a manifesto which will serve as a guideline for the rest of his career where he later works with somebody in real life named Polanski but I'm getting ahead of myself here. Even at this early point, he also has a good deal to say artistically, as he is the only person who would not turn the scene in the park into a train wreck.(When they say it is for the birds, they mean it literally). While the performances are lacking the intensity of his later films, at least Bobby Darin and Stella Stevens still do fine work here.

This wasn't a whopper, but a mildly entertaining, offbeat, arty film with Stella Stevens and Bobby Darrin looking their best at the height of their careers.
See Details