Torture Garden
(1968)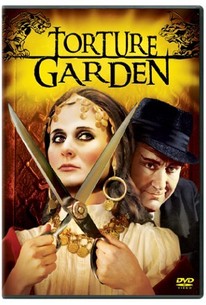 AUDIENCE SCORE
Critic Consensus: No consensus yet.
Movie Info
The Torture Garden is an "omnibus" chiller, adapted from four short stories by Robert Bloch (Psycho). Each is introduced by Burgess Meredith, playing a sinister carnival barker by the name of Dr. Diabolo. The doctor's audience consists of five people, four of whom are apprised of their ultimate fates as Diabolo weaves his stories. In "Enoch," a young playboy falls under the spell of a cannibalistic cat. In "Terror Over Hollywood," a famous movie star is revealed to be an android. In "Mr. Steinway," the "villain" is a killer piano. And in "The Man Who Collected Poe," the title character murders another collector over a valuable Poe manuscript--only to receive retribution from ol' Edgar himself. If we told you anything about the fifth person in Meredith's audience, we'd be giving away the ending, wouldn't we now? The individual episodes tend to rise and fall depending upon the strength of their stars. Among those present in Torture Garden are horror-flick regulars Jack Palance, Peter Cushing, Robert Hutton, Michael Ripper and Niall McGinniss. No, this isn't a Hammer Production; it was put together by Hammer's principal British rival of the 1960s, Amicus Films. ~ Hal Erickson, Rovi
Critic Reviews for Torture Garden
Audience Reviews for Torture Garden
Another British horror anthology with a slightly silly title methinks. This time nothing to do with the 'Tales from the Crypt' franchise but a stand alone set of shorts which was made before in 67. The director obviously made a good job of this anthology as he was used again to direct the first 'Tales' film, possibly taking many influences with him. The frame/wrap plot for this horror sees a group of five people enter into a horror house or sideshow of sorts in a funfair. The 'show' is run by 'Dr Diabolo' and he offers all the visitors the chance to experience real terror if they pay extra, they do...I wouldn't have. One by one they are all given the chance to glimpse into their own futures or fates at the shears of Atropos, a strangely real looking statue (which no one seems to question) of a Greek deity. From here we are given four (yes four) short tales of terror. The first has a young man letting his seemingly rich uncle die so he can find the old man's money. He searches the old house only to be brainwashed or fall under the spell of an evil cat that he finds. Second tale tells of a young woman breaking into Hollywood only to discover the secret of all the stars youthful appearances, they are all robots. The third tale is about a man and his grand piano. The grand piano is possessed and becomes jealous of its owners new love, so it takes its revenge on her. The last tale is about two Edgar Allan Poe collectors, one that wants bits of the others marvellous collection. In the end his greed sees him killing his fellow collector and having to deal with the devil and Poe himself. Its yet another British horror (we did them so well back then) so again we have some good casting but this time there is also an international flavour. This anthology offers you the talents of Palance, Burgess Meredith, Michael Bryant and again the horror legend Peter Cushing. I did like this anthology better than the first 'Tales' film. The main 'keeper' type role played by Meredith makes all the difference here. His sinister all teeth, razor sharp, Joker-like grin and villainous voice are perfect for these kind of Hammer-esque films. Then you have Jack Palance and his gleaming slit like eyes, his facial movements and sneering expressions. I always thought Palance was like that due to his age but it seems he's always been creepy. The thing that lets this down is the range of short stories it offers. One I liked which involved the major stars of Hollywood becoming robotic inside to remain young, a fun little sci-fi 'Westworld' type plot there. The others are poor really, the killer grand piano? really?, a man possessed by a black cat and the two Poe collectors. All pretty lame really, not exactly creepy scary or even fun, just dull and idiotic in the case of the grand piano. It looks good visually, again better than the first 'Tales' in my opinion but can't beat 'Vault of Horror'. The only two things I liked about this film were Meredith and Palance, Meredith especially in his post 'Penguin-like' outfits clearly making the most of that older winning role. Was cool to see Palance go up against Cushing too, epic double team there folks. A good anthology which is well worth the watch if you like these kind of films, the casting is best but the stories lack punch. I think I've repeated that a few times in this review now, you get the idea then eh.
Phil Hubbs
Super Reviewer
½
I love the Amicus anthology films, and this one is better than most of them. The first and last stories are the reason to see this one. I love seeing Jack Palance pop up in it, and he gives a great performance. I really liked portions of the score as they reminded me of The Twilight Zone quite a bit. Nothing can ever top Tales From the Crypt, but this is one of the better of the omnibus films.
Tim Salmons
Super Reviewer
½
This horror movie has a good story, but I've seen it in a lot of other movies. The cast is good too, and for the most part I liked this movie.
Torture Garden Quotes
There are no approved quotes yet for this movie.