Touchy Feely
(2013)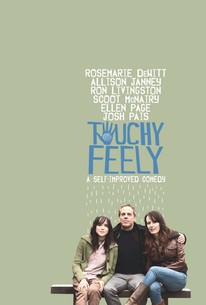 TOMATOMETER
AUDIENCE SCORE
Critic Consensus: Well-acted but overly quirky, Touchy Feely is a tonally uneven dramedy with some interesting ideas but a lack of follow-through.
Movie Info
TOUCHY FEELY is a closely observed examination of a family whose delicate psychic balance suddenly unravels. Abby (Rosemarie DeWitt), is a sought after massage therapist and a free spirit, while her brother Paul (Josh Pais) thrives on routine and convention, running a flagging dental practice and co-dependently enlisting the assistance of his emotionally stunted daughter Jenny (Ellen Page). Suddenly, transformation touches everyone. Abby develops an uncontrollable aversion to bodily contact, which not only makes her occupation impossible but severely hinders the passionate love life between her and her boyfriend (Scoot McNairy.) Meanwhile, rumors of Paul's "healing touch" begin to miraculously invigorate his practice as well as his life outside the office. As Abby navigates her way through a soul-searching identity crisis, her formerly skeptical brother discovers a whole new side of himself. TOUCHY FEELY is about the experience of living in one's own skin, both literally and figuratively. The film, written and directed by Shelton, and co-starring Allison Janney, Ron Livingston, and newcomer Tomo Nakayama (of the indie rock band Grand Hallway), is filmed on location in Shelton's hometown and urban muse of Seattle. (c) Magnolia
Rating:
R (for language, some drug use and brief sexuality)
Genre:
Directed By:
Written By:
In Theaters:
On DVD:
Box Office:
$35,966.00
Runtime:
Studio:
News & Interviews for Touchy Feely
Critic Reviews for Touchy Feely
Audience Reviews for Touchy Feely
½
Touchy Feely, the latest from writer-director Lynn Shelton, is the dreariest thing this side of Shelton's hometown of Seattle. If the over-under on smiles cracked by the film's quartet of main characters was four, I'd take the under. Even worse than the misery is the film's thematic aimlessness. Shelton got at deep and meaningful human truths with Humpday (and tried to with Your Sister's Sister). Here, she's got all the symbolism in the world at her fingertips (pun intended), but it's in service of a pretty pedestrian story and underwhelming characters. Abby (Rosemary DeWitt) is a seemingly happy massage therapist and her family's rock. Her painfully shy and awkward brother, Paul (Josh Pais), is seeing his dental practice disintegrate before his eyes, while his daughter-Abby's niece, Jenny (Ellen Page)-feels trapped by her father. She wants to go to college, but he doesn't make her feel like it's an option. Very suddenly and bizarrely, Abby is stricken with a crippling inability to touch anyone, rendering her unable to work or be around her boyfriend, Jesse (Scoot McNairy). Meanwhile, her brother, too, undergoes an inexplicable change. He's curing patients of their pain, which brings in some new blood and helps turn the business around. It's hard to figure what's worse-the film's setup or its conclusion. No explanation is given for either Abby's or Paul's sudden change in, what, cosmic energy? Both spend time with a hippie natural healer, Bronwyn (Allison Janney), but her presence is the film is as inexplicable as anything else. Still, an inexplicable plot turn-if it leads to compelling conflict and/or a satisfying ending-is totally fine. Touchy Feely has neither of these, sadly. The conflict is utterly nonexistent, so by the film's end, there's nothing to resolve. Touchy Feely is not without merits. I'll never dislike Rosemary DeWitt in a movie. Ever. It's simply not in my genetic code. She brings an authenticity to even the most awkward of roles that casting her in your movie is an automatic win. I'd almost say the opposite of Ellen Page in most situations. Post-Juno, she never seems to fit the roles she's given, whether she's playing a genius architect in Inception or a hot, young sexpot in To Rome with Love. Here, she's hardly around enough to bring the picture down, but I'd argue against my better judgment that she actually brings something to the movie by remaining lower than low-key throughout. Josh Pais is rather one-note as Paul, but the blame for this character's shortcomings and the film in general lies squarely with Shelton. She takes such visual liberties with her film's themes-throwing in a number of gorgeous extreme close-ups of skin and hands and all the things we touch-but when it comes to applying these themes to tell a story, she comes up startlingly short. Touchy Feely has a beginning and a middle (which aren't exactly good), but I'm sitting here, hours later, wondering what happened to the end, wondering how these characters have changed and learned. And I've got nothing, which is ultimately what this film amounts to. http://www.johnlikesmovies.com/touchy-feely-review/
John Gilpatrick
This was one of my latest disappointments with the independent film genre. While I can always find some glimmering reason why an indie movie has touched me, made me think, made me interested in a new topic or idea, "Touchy Feely" is the ultimate in do-nothing filmmaking. The story is non-existent, the characters are dour and constantly morbid, and I see no growth or change in anyone. The main character, Abby (Witt) is the most annoying person, and her story is nothing new or exciting. She fears intimacy and then loses the ability to touch people, which sucks because she's a massage therapist. Is this substantially addressed? No, it is not, and that's the absolute worst part about it, because instead of sticking to rationality, the plot careens off a cliff to never be seen again. This movie is very boring, a word I blacklist in many cases but for this nothing of a film I will assign gladly. Just, a huge waste of time in general.
Spencer S.
Super Reviewer
This drama directed by Lynn Shelton was nominated for the Grand Jury Prize at the 2013 Sundance Film Festival. After watching it, I really think that this one will divide the audience and any time could go both ways - some would love figuring it out what the writer and director wanted to say while others could simply walk away, deciding that their life is too precious to be wasted on such movies. The story of a massage therapist Abby (Rosemarie DeWitt) who is unable to do her job when stricken with a mysterious and sudden aversion to bodily contact, seemed deep, but I am not sure if that was on the surface only. It had the elements of the New Age mysticism but they led nowhere when the going was tough - it tried to be uplifting but most of the characters finished where they started... I have to say that there were fascinating performances from most of the cast, especially from Josh Pais as Abbie's uptight (slightly autistic or neurotic) brother, spending most of his time in the floundering dental practice which receives new life when clients seek out his healing touch. The other noticeable acting was from Ellen Page as his daughter Jenny... I think that most of the people who are aware of some of the benefits of the New Age touchy-feely approach will find this movie pleasurable, while others, more down-to-earth type of traditional believers could be very annoyed with suggestions that ecstasy could help you reach a balance in a relationship... Whatever group you are, the good thing is that the opposite opinion is usually served and Lynn Shelton is not asking anyone to believe in anything they see. If we simply take what she got - most of us could be satisfied.
Touchy Feely Quotes
There are no approved quotes yet for this movie.