Track of the Cat
(1954)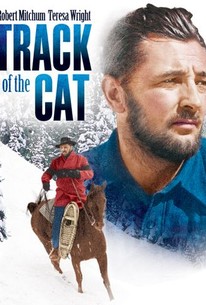 AUDIENCE SCORE
Critic Consensus: No consensus yet.
Movie Info
Set in wintery northern California during the 1880s, this western chronicles the effects of prolonged hardship and close confinement on a pioneer family. Trapped by unusually heavy snows, the Bridges household seethes with tension, largely due to the domineering ways of the family's insanely religious and opinionated mother.
Critic Reviews for Track of the Cat
All Critics (3) | Top Critics (1) | Fresh (1) | Rotten (2) | DVD (1)
It has no psychological pattern, no dramatic point. There's a lot of pretty snow scenery in it and a lot of talk about deep emotional things. But it gets lost in following some sort of pretense.

New York Times
Top Critic
It's one of those overlooked great films that somehow slips under the radar, in this case probably because it's unique as a Western.

Ozus' World Movie Reviews
Audience Reviews for Track of the Cat
At first, Joe Sam(Carl Switzwer), an elderly Indian, is the only one to hear it. After he wakes up the Bridges brothers, Curt(Robwert Mitchum), Harold(Tab Hunter) and Arthur(William Hopper), they also hear what might be a big cat threatening the family's cattle and is maybe even the mythical black panther that Joe Sam has alluded to on occasion over the years. At the very least, Curt and Arthur go out into the snow to see what they can find which gives their mother(Beulah Bondi) plenty of time to harangue Harold on his upcoming engagement to Gwen(Diana Lynn), the paid companion to Grace(Teresa Wright), who like her brothers is also unmarried. First, "Track of the Cat" is something of an odd duck in trying to turn its typical western premise of man versus nature on its head. And I would agree with anybody who says that this movie is meant mostly to be allegorical about the closing of the frontier in favor of settling down into a life of domesticity. But ignoring the hunt in favor of the household squabbles is a mistake, as anything Robert Mitchum does in general, much less in the stark white landscape, is much more interesting than anything going on inside the house where the primary lesson is to always find plenty of places to hide your booze.
I never thought I'd ever watch a Western adapted from a theater play. I did and I wish I hadn't. This film's really bad. Not only most of the action takes place indoor while the excitement (the hut for the cat) is outside. The whole film is shoot in studio and that's really a pity since it is certainly the worse set design I've ever seen. Besides, since when have wimps become so attractive? We want a real hero, not this child as a good character. Really, this film's bad in a whole new way to me.
Ben Gui
½
A weird film for sure. I don't even know if you can call it a western, since it's more of a dysfunctional family drama with a hunt involving a metaphorical cat. It's set in the snowy mountains like The Great Silence, and even though the color scheme is very spare the film still looks great.
X. T. C.
Track of the Cat Quotes
There are no approved quotes yet for this movie.
Discussion Forum
Discuss Track of the Cat on our Movie forum!