Trancers 6
(2004)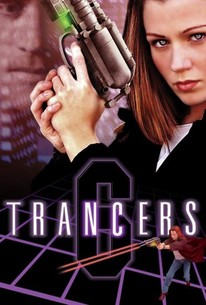 AUDIENCE SCORE
Critic Consensus: No consensus yet.
Movie Info
Jack Deth is back, and he's got a whole new look in this installment of the long-running Trancers saga. Traveling back in time to take over the body of his daughter Josephine, Deth must face off against a powerful new breed of Trancers if he has any hope of saving the future from a horrific fate and rescuing Josephine from a horde of fearsome, zombie-like killers. No one said that saving the world is an easy task, but if anyone has what it takes to finish the job it's Jack Deth.
Critic Reviews for Trancers 6
There are no critic reviews yet for Trancers 6. Keep checking Rotten Tomatoes for updates!
Audience Reviews for Trancers 6
With the loss of Thomerson this franchise dies and this final film shows it. A cast of nobodies in a D-Movie (if not lower) with nasty home video style effects, poorly shot action, inept acting and coupled with the exact same run of the mill plot. They even have the cheek to crowbar in footage of Thomerson as 'Deth' at the start making us believe hes in the film, albeit for about three min. Bad move as that idea nearly always comes across phony looking such as the many martial arts films with Bruce Lee footage awkwardly stuck in. Gone are all the cool witty wise cracks from Deth, that classic tough guy presence which always gave these films a tiny edge. This time Deth has apparently somehow taken over his own daughters body to fight the bad guys. Its a reasonable idea but we all know its purely because there is no Thomerson to play Deth. We are meant to believe that Deth is inside this feisty young female, the same mannerisms, speech, attitude etc...it doesn't really work lets be honest, nice try though.
Phil Hubbs
Super Reviewer
Trancers 6 Quotes
There are no approved quotes yet for this movie.