Transformers: The Last Knight
(2017)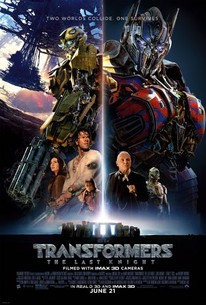 TOMATOMETER
AUDIENCE SCORE
Critic Consensus: Cacophonous, thinly plotted, and boasting state-of-the-art special effects, The Last Knight is pretty much what you'd expect from the fifth installment of the Transformers franchise.
Transformers: The Last Knight Videos
Transformers: The Last Knight Photos
Movie Info
The Transformers leap into action once more in this sequel from Paramount Pictures and director Michael Bay. ~ Jason Buchanan, Rovi
News & Interviews for Transformers: The Last Knight
Critic Reviews for Transformers: The Last Knight
Audience Reviews for Transformers: The Last Knight
What a huge letdown, I know every Transformers film hasn't had great reviews from critics but I loved the previous 4 so bad reviews didn't put me off one bit but for once I think I agree with them on some level, The film is overstretched with so many plot details we lose track and to be honest the story isn't that hard to follow it just felt like they were time filling most of the film, When you have a easy plot and somehow manage to put plot holes in it it's time to call it a day for some writers in Hollywood plus we had a few scenes that make you want to shout out "What the Fuck is going on" Or roll your eyes to your mate, They also turned every Autobot apart from Prime into a comedy sidekick and it really ruined the film, It felt like every scene they were trying to be over funny and it didn't work one bit, There's not much action at all until the end and it made the film drag even more so, The effects were amazing as we expect from these films, I can't comment on the 3D as I watched the 2D version, Yet again I didn't care for the human cast especially Isabela Moner I just wanted her to be killed off everytime she was on the screen, Kids shouldn't have a place in films like this, You have fully grown, Trained soldiers who die almost straight away then you get a 14 Year old girl who just gets in the way and always needs saving somehow survived, It just doesn't make sense, Easily the worst one so far and it doesn't look like the series is going away anytime soon, Let's just hope they learn from their mistakes in this one.
Jamie Clarke
Super Reviewer
½
Unlike many of my critical brethren, I do not view Michael Bay as the devil incarnate. I think the man has definite talent and is one of the finest visual stylists working in the realm of film. I've enjoyed about half of the Transformers franchise and don't consider it the end-all-be-all of modern American cinema. Transformers: The Last Knight is exactly what the detractors have railed against from the start: a cacophonous ejaculation of incomprehensible nonsense. The charge has often been made against Bay's long filmography that his stories are unintelligible, but Transformers 5 proves to be the new measuring point for incensed incredulity. This isn't only the worst Transformers entry in a seemingly never-ending franchise (thanks product placement, merchandising, and toy sales) but an early contender for worst film of 2017. Cade Yeager (Mark Wahlberg) is hiding out with other Autobots in a South Dakota junkyard awaiting the return of Optimus Prime (voiced by Peter Cullen). Prime ventured into space to find the remnants of the Autobot home world, Cybertron. Once found, he's brainwashed by the Cybertron goddess Quintessa (Gemma Chan) into being her servant. She's after an ancient staff that will prove to be the key to restarting Cybertron. It was last seen on Earth during the Dark Ages and rumor has it was given to Merlin. Cade is enlisted by a centuries-long secret society to help find the staff before the evil forces at bay get hold of it. It feels like the Transformers 5 writers were on a week-long cocaine bender when they cobbled together this impenetrable narrative. Let me give you but a taste of the confusing, muddled, and overall mind-numbing plot as it exists. There's a magic staff from the robot world that will recharge the robot world, and it just so happens 12 robot knights, which form a giant robot dragon, landed on Earth and gave it to Merlin, played by a soused Stanley Tucci who was already a different character in the fourth Transformers movie, who then established a secret order that would keep the giant alien robots secret even as they were doing things as high-profile as literally killing Hitler, and the members of this secret society include Frederick Douglass and Queen Elizabeth and Shia LeBouf, and this staff needs to be retrieved from an underwater spaceship under Stonehenge by Merlin's blood progeny and will be aided by an alien talisman that forms an alien sword that does something, and the evil alien robots are going to recharge their planet by scraping the Earth's crust, which has horns protruding from it that once aligned with Pangaea, and there's an evil alien robot goddess who brainwashes Optimus Prime to retrieve her magical items on demand and then Megatron is being hired the U.S. government and a team of special ops are trailing him to get to the staff and... I'm sorry; did your brain start bleeding out your ears? I looked over to my friend Ben Bailey during the screening and saw him slumped over in his chair and thought, for a fraction of a second, that the movie had literally killed him (he had just fallen asleep for the third time). What an ignoble end. The movie is a nonstop barrage of yelling and movement, an assault on the senses that leaves you dumbfounded and dazed, and without anything to moor onto. Almost every single actor is on screen for one of two purposes: quips or exposition. These are not characters but devices for words that ultimately don't make sense. Wahlberg has two different female sidekicks. For the first half, he's got a plucky teen that serves as a surrogate daughter figure. Izabella (Isabella Moner) is a kid with attitude and carefully arranged strands of hair that always fall over her face in every single shot in the entire movie. Izabella's introduction actually might be the highlight of an otherwise soul-crushing experience. Then Wahlberg leaves for England and he adopts a new sidekick, this time the hot smart woman who changes into a more comfortable outfit but literally keeps her heels. Vivian (Laura Haddock) is pretty much the next in a long line of highly sexualized, tawny female characters under Bay's alluring gaze (I wrote about the second film: "Women don't seem to exist in the Michael Bay world, only parts and pieces of women."). Her mother doesn't care about the end of the human world, or her daughter's many academic credentials, and instead pesters her about getting herself a man. This leads to one of the film's worst comedic moments, as Vivian's mother and friends giggle and eavesdrop on her and Wahlberg trashing a library as a spontaneous bout of sexy time. Wouldn't it be weird for anyone's mother to take pleasure in listening to your escapades and offer a play-by-play? But the strangest characters are Anthony Hopkins' Sir Edmund Burton and his 4-foot robot ninja (voiced by Jim Carter). You can clearly tell that Hopkins didn't care at all what he was saying. He uncorks ungainly monologues with relish and then transitions into strained comedy as a doddering old man. The robot butler begins as a C3PO-esque prim and proper servant with a disarming fighting ability, and it works. However, as the movie progresses, the robot butler gets downright belligerent and seemingly drunk. It's truly bizarre, as if this robot is acting out to be seen like he's one of the cool kids, but whom exactly is he trying to impress? At one point, he tells Wahlberg that he is "on my shit list" and torpedoes out of a submarine, brings back fish, prepares a sushi dinner for the humans while supplying ingredients that were totally not found on a WWII-era sub that was parked as a tourist locale up until 20 minutes ago. The character makes no sense and seems to bounce around behavioral extremes. Take this passage late into the film: Robot Butler: "Of all the earls I've served-" Me: "You were the greatest?" Robot Butler: "-You were the coolest." Me: "Whaaaaaaaa?" Another confusing part of the film is the setting of its story. We're five movies in to an alien civil war taking place on Earth, so you would assume that normal life shouldn't feel normal after so many catastrophes. Egypt was destroyed in the second film (only Six Wonders of the World left in your punch card, Bay), Chicago was decimated in the third film, and China was blown up in the fourth film. It's about time that people started paying attention to these things and behaving differently. A new government agency is tasked with hunting down Transformers and there are war zone portions of the world that are quarantined, but that's about it. I initially thought this fifth movie was going to take place in a somewhat post-apocalyptic Earth where human beings have to struggle to survive. That's not Transformers 5 at all. It seems all too easy to ignore reality; Wahlberg's daughter is away at college. After four movies, the world of this franchise needed a jump in its stakes. Bay's films have always possessed an alarming sense of urgency but it rarely feels earned. Characters yelling, running, and explosions going off like fireworks isn't the same thing as genuinely developed stakes. Another confusing aspect of Transformers 5 is Bay's jumbled aspect ratios (i.e. how wide the frame of the movie is presented). Sizeable portions were shot on IMAX, which has become all the rage for action movie directors since Nolan's The Dark Knight. I expected that. What I didn't expect was three different aspect ratios that jumped from shot to shot. Two characters will be having a conversation and the aspect ratio will cycle and it rips me out of the movie every time (there are SIX credited editors). The Dark Knight's IMAX sequences worked because they were sustained sequences. I expect the higher-grade IMAX film stock for the expansive action or picturesque landscapes to take in the natural splendor. What I wasn't expecting was measly interior conversations to be filmed in IMAX. Did I really need to watch a conversation with Vivian and her mother in IMAX to fully appreciate their bookshelf? Like much else in this perfunctory movie, this game of pin-the-tail-on-the-aspect-ratio makes no sense. I don't normally like to quote myself, but reading over my concluding paragraph of 2011's Dark of the Moon, I was struck by how much of my assessment could equally apply to the fifth film, even down to the exact running-time: "Transformers: Dark of the Moon is likely everything fans would want from a franchise built around the concept of robots that fight. There's wanton destruction, a plethora of noisy explosions, and plenty of eye candy both in special effects wizardry and pouty, full-lipped women. But at a colossal 150-minute running time, this is a Transformers film that punishes as much as it entertains. There's really no reason a movie about brawling robots should be this long. There's no reason it should have to resort to so much dumb comedy. There's no reason that the women should be fetishized as if they were another sleek line of sexy cars. There's no reason why something labeled a 'popcorn movie' can't deliver escapist thrills and have a brain too." Take this assessment and times it by ten for The Last Knight. The incomprehensible plotting, infantile humor, nonchalant misogyny, empty action bombast, and dispiriting nature of the film are enough to suck the life out of you. I was bored tremendously and contemplated walking out on the movie (I stayed for you, dear reader). It feels like the screenplay was put into a blender. Transformers 5 is exhausting and exhaustively mechanical, and if this is the first start in a larger Expanded Transformers Cinematic Universe (ETCU?) then resistance may be futile. Still, it's worth fighting against brain-dead spectacle that only moves you to the exits. Nate's Grade: D
Nate Zoebl
Super Reviewer
The Transformers franchise has had its ups and downs. How far up and how far down is up to you, because I think this is one of the most divisive franchises out there today. Look, I enjoyed the original live-action film quite a bit. The second isn't good, the third one was a little better, but ever since the original cast left, this franchise has been digging itself an even deeper hole. I didn't have any hopes going into this film, other than the fact that I was hoping for it to be the best one in the franchise. I don't hope to dislike a film and for the most part, I find almost all of these movies tolerable, but Transformers: The Last Knight isn't only the worst film in the franchise, it's one of the worst films I've seen in a very, very long time. I have very few positives to say about this movie, so this may seem like more of a rant, but let's dive right in. With a story crafted by four writers, there will always be conflict as to what fits into a film. Personally, I believe that a film should have no more than two writers, due to the fact that the term "too many cooks in the kitchen" is referenced far too often. The premise of this film is all over the place. The opening to this movie tells the audience that the Transformers have been here since the ancient times, which makes no sense in continuity with the first film, but that's another story. Optimus has his own story on his planet, which the film hardly ever focusses on, and characters/locations from previous films are shown/referenced to show that you're still watching the same franchise. With the addition of Anthony Hopkins unravelling the history of the Transformers, this film just becomes a giant bore, making you wish for an awesome climax, which also never happens. The conclusion to the previous film had Optimus leaving Earth in search of his creator. This small aspect of the last instalment is the only thing that gave any kind of promise to this one being interesting. That being said, they pretty much abandon that for the majority of the movie, rarely ever showing what Optimus is up to until the third act. Sure, sometimes saving the best for last works, but when the most interesting thing happening in the movie forces you to wait and then lets you down in the third act, what was the point of the movie anyways? I can't stress enough how disappointing and hilariously executed the plot twists are throughout this film. Without spoiling anything, the big plot twist that reveals who the last remaining knight is, is the most I've chuckled at a movie in a while. The film asks you to suspend your disbelief, even for the standards of a Transformers movie, and it was at that point that I lost complete interest, which is really saying something, because it was the most interesting aspect about the movie that ends up ruining the movie. We all know if this film makes a lot of money (which it probably will) we're going to see more movies, but in terms of quality, Transformers: The Last Knight is the final nail in the coffin for me. It's one thing when a movie fails to deliver on the one thing that the previous instalment promised, but another thing entirely when the film at hand seems to be adding addition sub plots in order to pad out the run time. From bad humour (again), to cool action that you need to wait two hours to see (again), to the build up of Optimus being the villain, only to completely thrown that away for a twist that is meant to be taken seriously, but ends up being hilarious, this movie is the definitive death of the franchise that has already been dead in the water many times. Look, I'm sure some people may find enjoyment out of this movie, but I would have to ask why that is. From horrible dialogue, to an insanely convoluted premise, to the best characters hardly ever being present, to a climax that is too ridiculous to take seriously, Transformers: The Last Knight is officially the first Transformers movie that I absolutely hate. So take this as an even bigger warning, because when people were tearing apart the second and third instalments of this franchise, I was one of the first to defend them for being dumb fun popcorn flicks, and as bad as Transformers: Age of Extinction was, at least it felt like a continuation of the franchise. With everything this movie tries to accomplish, it also makes itself the most distant from the series. Aside from maybe one or two chuckles and a couple of cool battle sequences, Transformers: The Last Knight is the worst film I've seen in all of 2017. It's easily the worst in the franchise and I can't stress enough to not spend your money on this movie. This film is so drawn out that I fear even kids will be bored out of their mind. Most films don't need reboots, but if they want to make more Transformers movies, please start from scratch, because there is no coming back from this atrocity.
Transformers: The Last Knight Quotes
There are no approved quotes yet for this movie.
Discussion Forum
Discuss Transformers: The Last Knight on our Movie forum!