The Transporter
(2002)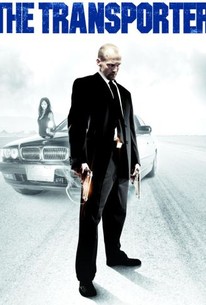 Movie Info
An outlaw finds his life becoming all the more dangerous when he turns against a gang of criminals in this action drama. Frank Martin (Jason Statham) is a former Special Forces officer who lives on the French Mediterranean and has a lucrative second career as a underworld courier for hire. Martin will deliver anything anywhere, but he has three iron-clad rules - once the plan is in motion it cannot be changed, neither he nor his customers are to ever use their real names, and under no circumstances will he open the package. Martin is hired to make a delivery to a wealthy but unscrupulous American known as Wall Street (Matt Schulze), but after taking possession of the package he realizes that whatever is inside happens to be alive. Breaking his own rule, Martin opens the bag to discover a beautiful Asian woman, Lai (Shu Qi), who is bound and gagged. Lai briefly escapes, but Martin captures her, and delivers her to Wall Street as promised. However, after being given a parcel to deliver by Wall Street, Martin finds out what Wall Street is up to - in partnership with Lai's father Mr. Kwai (Ric Young), Wall Street is part of a scheme to smuggle Asian illegal aliens into France. Martin's conscience gets the better of him, and he sets out to rescue Lai and put Wall Street and Mr. Kwai out of business; however, as if this wasn't enough of a challenge, Martin discovers a French detective, Tarconi (Francois Berleand) has gotten wind of his illegal business. The Transporter was the first English-language feature for Hong Kong-based director Corey Yuen, who along with directing a number of HK action flicks designed fight choreography for several American films. ~ Mark Deming, Rovi
People Who Like this movie also like
News & Interviews for The Transporter
Critic Reviews for The Transporter
Audience Reviews for The Transporter
[img]http://images.rottentomatoes.com/images/user/icons/icon14.gif[/img] Jason Statham is a bored and retired army guy, who get's thrills out of transporting criminals and illegal substances all around France, whilst avoiding the law by any means necessary to him. It's a pretty good set up and a great opportunity for action. The Transporter is produced by Luc Besson, who sometimes directs films but mostly chooses to produce either throwaway action B movies like this or forgettable French dramas. Most of which are considered to be mediocre, however The Transporter like all the other Besson action flicks is adequately written and filled with plot holes, what makes it special, is Statham's unbelievably energetic performance. There are absolutely loads of moments where Statham fist fights, strips, drives cars whilst kicking ass, and brawls whilst covered in motor oil. It sounds ridiculous, but it's what makes this movie so fun. It takes a great lead performance, slick action and charm to make a movie like this work, and The Transporter is one of the few Besson movies that has that. In my opinion "Taken" is the best where as Transporter 1 is infinitely inferior but it holds as a cheesy, ridiculous action flick. If like me you glanced at the poster expecting all the action stereotypes you'll get just that. It's enjoyable enough, but not Besson or in equal measure, Statham's, best.
Directors Cat
Super Reviewer
The Transporter from Cory Yuen and Louis Leterrier goes hard on the action and easy everywhere else.
Roughly 90 minutes is all this film needs to complete its story. The first 10 minutes define the title with great success, before slowing drifting away from its concept. The plot is simple, straight to the point, and moves with a brisk pace.
The action is stylized and is in high abundance. The bulk of the fun is comprised of hand to hand combat, along with a nice helping of guns and other melee weapons. The driving aspect dissolves by the halfway point as the film becomes more of an action adventure, rather than one about transporting.
Jason Statham is calm and cool, as his character is written. Shu Qi delivers a watchable performance as well. Matt Schulze is nothing more than a cliched villain.
The Transporter doesn't offer anything out of the ordinary; however, it satisfies as a quick watch.
½
Everything wrong with the Hollywood-action-genre of today. Over the top, clearly staged sequences, blatantly forced badassery, unimaginative (and somewhat incoherent) storytelling. God it just has so much "in your face" pizazz. Like a teenager with his popped collar slapping on a pair of shades. Saving grace is Statham and an intriguing premise.
Drake Tsui
Super Reviewer